Why 'Rick and Morty' Season 4 Could Kick Off With a Thanksgiving Special
Or more accurately, a hilariously dark Black Friday adventure.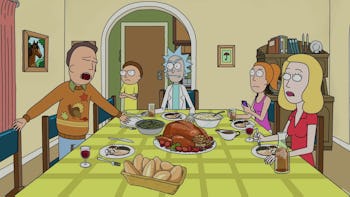 Adult Swim
Only the most hardcore Rick and Morty fans recognize Mr. Poopybutthole as the single most important character in the series, especially in terms of communicating when new episodes will be released. In the Season 2 post-credits scene, he revealed that Season 3 would air a year and a half later, which is why his Season 3 post-credits scene talking about growing a "big, white Santa Claus beard" led some of us to believe Season 4 might begin in December 2018 with a Christmas Special.
So when Adult Swim released a video in which Morty and Rick themselves announced that Rick and Morty Season 4 would premiere in November 2019, we couldn't help but think of the touching troll Adult Swim delivered the night before Thanksgiving in 2017.
Adult Swim released a montage video called "The Poop in My Pants" reminiscent of Pixar's Up but focusing on Mr. Poopybutthole's life after Beth shot him in Season 2's "Total Rickall" and everything he's thankful for, particularly his family.
At the very end of "The Poop in My Pants," Mr. Poopybutthole leaves his cane in the living room and walks left towards his wife and child in the dining room. In the original post-credits stinger at the end of Season 3, he walks left into that same room and shouts about how great the season was and what he's been doing since he last appeared on the show.
"See you for Season 4 in like a really long time," Mr. Poopybutthole says. "I might even have a big, white Santa Claus beard and a couple of grandkids and all that kinda stuff. See ya then!"
These clips always come off as pretty ridiculous, and it's possible that the "Santa Claus beard" line is a troll to all the fans that love to overanalyze Rick and Morty.
The Rick and Morty wiki also lists "The Poop in My Pants" as a "promotional short episode" rather than just some kind of teaser, essentially making these two clips together an interlude between Seasons 3 and 4.
Taken as a cohesive message, these two clips together offer three minutes full of Rick and Morty Easter eggs that communicate the value of family, love, and gratitude. Perhaps it's a stretch, but those values speak to the most holistic interpretations of what Thanksgiving means in America.
Especially in light of the recent announcement that Season 4 will begin in November 2019, could Rick and Morty be gearing up for a Thanksgiving holiday special?
If all of this sounds too good-natured for Rick and Morty, also consider how obsessed series co-creator Justin Roiland is with consumerism. During "Total Rickall," the episode that introduces Mr. Poopybutthole, Rick freaks out in a false memory about buying discounted handheld Nintendo systems from Walmart. For the Thanksgiving special to actually be about Black Friday and the corrupting frenzy of American consumerism would be totally in line with the ethos of Rick and Morty.
Rick and Morty hasn't had any holiday specials in the traditional sense, but the second episode ever, "Anatomy Park," did take place on Christmas. Most Rick and Morty episodes have aired on Sunday nights in recent years, but the show originally premiered on Monday nights at 10:30 p.m. Eastern.
The one glaring exception was the surprise airing of the Season 3 premiere on Saturday, April 1, 2017. Because it aired on a continuous loop for several hours with no previous advertising at all, the whole stunt felt like a ridiculous April Fools' Day joke. Does that also count as a holiday special?
The precise air date of the Rick and Morty Season 4 premiere is anybody's guess, but Thanksgiving falls on November 28 (a Thursday). The show will probably still air on Sunday nights, so if a Thanksgiving special does happen, that might air on Sunday, November 24. Otherwise, just about any Sunday in November is fair game, so it's also possible that if a Thanksgiving/Black Friday special happens, it might be several episodes into Season 4.
Rick and Morty Season 4 will premiere sometime in November 2019.
Here's the official Season 4 premiere announcement from May 15: