'Rick and Morty' Fan Kanye West May Have a New BFF in Justin Roiland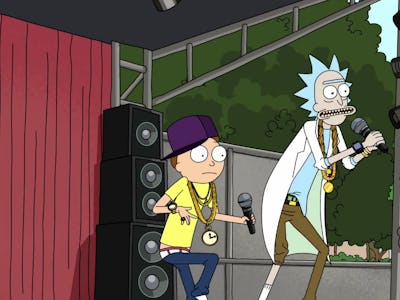 Adult Swim
Fans of Rick and Morty received great news Thursday when it was announced the show was renewed for 70 episodes. One fan went on Twitter to talk about his excitement and received a personal response from one of the co-creators of the shows. Of course, it helped that the fan was Kanye West.
Co-creator Justin Roiland made the announcement of the return of Rick and Morty Thursday on his Twitter account. Hours later, Kanye tweeted about the news and how much of a fan he is of the show.
Roiland responded to Kanye's tweet saying that he and the rapper should hang out.
To which Yeezy replied:
Speaking of hanging out, Dan Harmon posted a video on Instagram of him in the shower, and Roiland makes a surprising cameo.
Rick and Morty fans went nuts over the big news after months of few words regarding a Season 4. At the show's subreddit, many posters realized that with a total episode count of 101, this meant the show had a good chance to be syndicated since 100 episodes are looked at as the number a show needs for syndication. The actual number is 88 episodes, or four seasons of 22 episodes.
You Might Also Like: Actually, Rick and Morty Getting 70 More Episodes Is a Bad Thing
No date has been set for the return of Rick and Morty. When the show does return for Season 4, there is plenty to revisit such as Beth and the revelations of her possibly being a clone or what does Evil Morty have in store for the Citadel.
Also, will McDonald's Szechuan Sauce make an appearance in the show again? In the premiere of Season 3, Rick did say how his goal was to get more of the discontinued sauce. Co-creator Dan Harmon talked about the craze the show caused over the sauce and how the rumors of him receiving a cut of the profits from the sauce were false.
Whatever Season 4 has in store is yet to be seen. In the meantime, we will have to subsist on the absurd idea of Justin Roiland and Kanye hanging out and contemplating humanity.
This article has been updated with new information.