McDonald's Brings Szechuan Sauce Back, Snubs 'Rick and Morty'
The sauce is real, and so is McDonald's fear.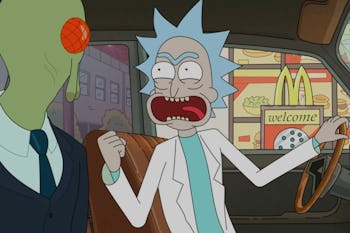 Adult Swim
Rick and Morty's third season began by working the nation into a frenzy for a chicken nugget sauce that McDonald's discontinued almost two decades ago, and it ended with the fast food chain's announcement that it's actually, for real, bringing Szechuan sauce back. The sauce will only be available for one day at select locations, but McDonald's is making a big deal out of it. And, weirdly, snubbing 'Rick and Morty.'
Szechuan Sauce, which McDonald's introduced in 1998 as a promotional tie-in for Disney's Mulan movie, got a new life when Rick announced obtaining more of the sweet stuff was his life's goal in the Season 3 premiere. McDonald's gave out some old jugs of the sauce to the Rick and Morty team, but now they're bringing it back for an event to promote the introduction of new Buttermilk Crispy Chicken Tenders and a new "signature sauce" to go with them.
The kickoff event, which will occur on October 7, will also feature nine more sauces and special accompanying posters for each. One of the sauces is Szechuan sauce.
"In addition, after nearly 20 years (and perhaps a bit of time travel) we're even doing the impossible…" McDonald's writes on its website. The time travel bit is, presumably, a sly nod to Rick and Morty, which doesn't get an explicit shout-out in the McDonald's announcement. Elsewhere, the press release mentions sauces being worthy of vague "pop-culture status," and the Szechuan sauce poster resembles what Rick and Morty might look like without the main characters and a PG rating.
On Twitter, McDonald's has exchanged tweets with Adult Swim and Rick and Morty's creators, so it's not like the brand is bringing back Szechuan sauce for reasons that are totally unrelated to the wildly popular adult cartoon, though McDonald's did not respond to Polygon's inquiry about whether the return was explicitly related.
So, what we have here is a brand reacting to fan engagement and wanting to cash-in on some free publicity. But, at the same time, McDonald's doesn't want to explicitly mention the real reason behind the sauce's revival in official press materials. Perhaps it's because Rick and Morty is not exactly "family friendly." Or perhaps it is because any true mention of the Adult Swim show would've required an official arrangement with the Turner Broadcasting System and Time Warner, which owns Adult Swim.
McDonald's provided a statement explaining why Rick and Morty didn't get an explicit shout-out in an email to Inverse:
We did not partner with Justin Roiland/Rick and Morty for the Szechuan Sauce poster. Justin Roiland and the Rick and Morty show have had a lot of enthusiasm for our Szechuan Sauce. In fact, this year it became a pop culture phenomenon. We took inspiration from their passion and we just couldn't resist bringing back the sauce in limited quantities for our customers to enjoy for the first time since 1998.
Anyway, if you're interested in getting some Szechuan sauce, you can find your closest participating McDonald's on the website. The event will take place at 2 p.m. on October 7, and you actually have to go into the restaurants. Drive-thru customers can't partake in this event that is probably but not ~officially~ happening because of Rick and Morty.
If you liked this article, check out this video about an Evil Morty fan theory.