E3 2019: Last-Minute Schedule Change May Hint at PS5 or Xbox Scarlett News
An under-the-radar keynote may be packed with console Easter eggs.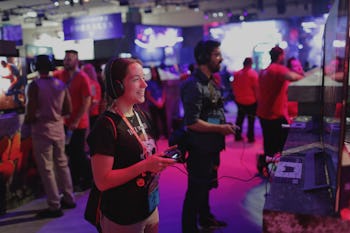 E3 Expo
While epic game teasers and esports activations were always going to be on the docket for next month's E3 2019, one of the two premier gaming expos alongside GDC, expectations for any updates about next-gen consoles like the PS5 or the next-gen Xbox were muted.
That's because Nintendo, Sony, and Microsoft all made it clear that there won't be any new hardware revealed at the Los Angeles Convention Center in June. But attendees and viewers tuning into E3 livestreams will likely get some hints, particularly relating to the upcoming PlayStation 5 and Xbox "Scarlett" consoles, from a last-minute keynote from a crucial third-party component supplier.
This supplier is the game chip powerhouse AMD, who recently announced on Tuesday that it would host a gaming-centric keynote at E3 titled "Next Horizon Gaming." In a press release, the company stated it will unveil the next generation of AMD gaming products. This line of subject matter seems all but certain to give gamers a taste of the caliber of graphics and computational power that could come with the PS5 and the high-end Xbox "Anaconda" console.
"AMD president and CEO Dr. Lisa Su will present to a live and global streaming audience details about upcoming products and technologies that will power gaming from PC to console to cloud for years to come," stated the release.
While there's nothing particularly subtle about the tease — not sure what device could power console and cloud tech "for years to come" without applying to the PS5 or new Xbox — there's additional evidence that AMD will showcase some of the tech found in Sony and Microsoft's next-gen consoles.
Dr. Su has already revealed, for example, that AMD is partnering with both Sony and Microsoft to help develop the PS5 and Xbox Scarlett's "secret sauce," in a September 2018 interview with CNBC. This "secret sauce" likely refers to the new chip architecture, "Navi," that will be found within the company's graphical processing units (GPUs). AMD expects these chips to be ready by the second half of 2019, and customized versions of them will be found inside of the PS5 and likely the new Xbox consoles.
For his part, top Sony exec Mark Cerny, who was the lead system architect for the PS4, also revealed key details about what will come under-the-hood of Sony's next-generation console. He said that both the PS5's GPU and the console's central processing unit (CPU) will be custom made by AMD. Cerny also said the GPU will support "ray tracing," a rendering technique that will make standard and VR games look more lifelike than ever. This feature in particular has been leaked a couple of times now.
Microsoft has been less forthcoming about what will power its next-generation console, but industry insiders have heard that one, code-named Anaconda, will aim to pack an even bigger graphical punch that the PS5. The anticipated, lower-cost Xbox, code-named "Lockhart," will likely be optimized to work with Microsoft's upcoming xCloud gaming service. Unlike Sony, Microsoft is attending E3 2019, and could in theory still tease the service alongside AMD as it debuts the new chipset. This seems unlikely, however, as it would jeopardize AMD's neutrality.
Those hungry for next-gen console hints will very likely have to make due with the AMD keynote. The chip company will take the stage on June 10 at 6 p.m. Eastern time, and the event will be live-streamed on AMD's YouTube channel. Tune in to potentially catch a glimpse at the engines that will power the next generation of gaming.