PS5 Leaks: The Latest Alleged PS5 Specs List Leaves Out a Major Component
Sony's next console sounds like a powerhouse.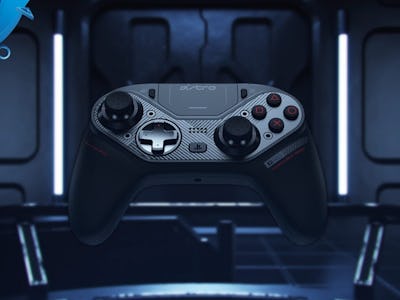 Flickr / steamXO
The PlayStation 5 is angling to be the world's most cutting-edge console once it's eventually released in mid-to-late 2020. Sony has already confirmed that it will come packed with never-before-seen hardware, and a massive list of leaks shed further light on the future console's capabilities. Now, yet another list of leaked specs has emerged online that corroborates even more rumors, with one notable exception.
The gold mine of new information comes from a Reddit post published on April 26 that went largely unnoticed, garnering only 38 upvotes. The anonymous author (who told Inverse in a Reddit DM he was using a burner account and declined to be interviewed) claimed that his friend had attended an internal Sony meeting a day after Wired published its exclusive interview with Mark Cerny. The interview with Cerny, the lead system architect for the PS4, is what ultimately revealed most of the official details about the PS5 we have so far. Under the throwaway account /u/17791, the leaker rattled off a series of specs that they claimed Sony revealed to their friend.
"He's sent me some details about what was mentioned at this meeting and has given me the greenlight to say some things that were mentioned," wrote /u/17791.
The leaks primarily shed light on the PS5's graphical and computational capabilities. But they're arguably most notable for what went unmentioned. According to this leaker, Sony didn't say a word about the rumored successor to the PlayStation VR headset that has been hinted at in various patent filings, and which was rumored to be part of the PS5 bundle.
Here's everything to know about the latest leak, and what it portends for Sony's next-generation console.
PS5 Leaks: Specs
The Reddit post seems relatively credible. It lines up with most of the details confirmed by Cerny, and it also aligns with the rumored specs put forth by a previous list of leaks posted to Pastebin, much of which Cerny subsequently confirmed. It also supports a claim made by Kotaku news editor Jason Schreier that the PS5 would pack more than 10.7 teraflops of power.
Given that the PS5 is more than a year away, there's still room for some of these details to change. But the fact that we've heard mention of most of this hardware before suggests there's a good chance it will be included. Some of the claims in this latest Reddit leak seem a little dicey, mainly the exact speed and computing metrics mentioned. It's not clear how the leader could know this, as these figures can't be official until Sony runs a test on the final console, which is likely still in development.
Central Processing Unit: 7-nanometer, 8-core AMD's Zen 2 CPU, clocked at 3.2 gigahertz. These processors work according to a clock that beats billions of times a second (measured in GhZ). Currently, the PS4 Pro clocks 2.13GHz, so this would be a big step up.
Graphical Processing Unit: Custom AMD Navi GPU with 56 compute units, 1.8 GHz, 12.9 teraflops of power, meaning it can complete 12 trillion operations per second. This is identical to the GPU details listed in a separate set of leaks, other than the teraflops, which we won't know for sure until the PS5 is finalized.
Ray Tracing Support: Cerny confirmed that the PS5 would make use of a rendering technique that can create a very high degree of visual realism, called ray tracing. They also alleged this would be possible due to the custom GPU AMD is cooking up for Sony.
Memory: 24 gigabytes of Random Access Memory (RAM), which line up with previous leaks perfectly.
Solid-State Drive: Cerny also said Sony was working on putting a solid-state drive (SSD) into the PS5, which is much faster than the traditional hard disk drive (HDDs). However, the Reddit leaks said the PS5 would use both SSD and HDD. This could be a way to bring down PS5's price, as SSDs are many orders of magnitude more expensive than the HDDs. A fully SSD-powered PS5 would be lightning fast but extremely pricy.
PS5 Leaks: Features
The two features mentioned by /u/17791 will be great news for long-time PlayStation fans and graphics buffs.
PS4 Backwards Compatibility: The PS5 will allegedly be able to run all PS4 games. Simply pop in the disks and play. This feature will be crucial for attracting legacy Sony fans who are still fond of older games.
Frame-Rate Boost Mode: Just like the current PS4 Pro, the PS5 will come with a Boost Mode feature to increase games' frame rates. There's no mention of what it will be capable of, but keeping games at a steady 60 frames-per-second would bring the PS5 closer to PC gaming than any console before it.
PS5 Leaks: No PSVR Headset Mentioned
The PS5 hype has been supplemented by the possibility that Sony will drop a completely wireless VR headset to complement its next-generation console. This may be the big disappointment about the PS5, as /u/17791 said the company failed to bring it up at all.
Previous leaks have alleged that the "PSVR 2" would cost $250, support 2,560 x 1,440 resolution, a 120-hertz refresh rate, provide a 220-degree field of view, eye-tracking, come with up to five hours of battery life, and include integrated headphones. These rumors seem increasingly likely to have been wishful thinking.
Tom Wijman — a senior market analyst at the gaming market analytics firm Newzoo — told Inverse that a headset with specs like that would probably cost as much, if not, more than the console itself. He also said that Sony will likely prioritize affordable VR hardware over elite specs. If there is a headset that launches alongside the PS5, it would likely be a lot less swanky.
The release date for the headset remains a mystery, and the fact that Sony didn't mention it in this meeting casts doubt that it will be released in tandem with the PS5. That said, Cerny did confirm that the current PSVR hardware will be compatible with the PS5, so it also seems unlikely the releases will be too spaced apart.
The original PS4 was launched in 2013 and the PSVR headset launched three years later, in 2016. Sony could try to recreate the same strategy with its boosted headset in the coming years.