PS5: Sony's New VR Headset Might Not Be What We Expected (for Good Reason)
Reports about PSVR's future miss one key point.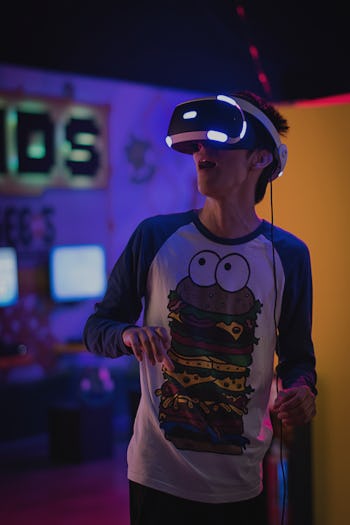 Unsplash / Uriel Soberanes
Sony's PlayStation 5 is shaping up to be a monstrous console. Company insiders have already confirmed an arsenal of next-generation specs that will elevate the in-home gaming experience.
Building the hype even more — a flurry of recent patents and leaks build a strong body of evidence that Sony plans to release a new, wireless PSVR headset alongside the PS5.
Patent blueprints have provided insights into how the PS5 and headset would work in tandem to wirelessly transfer video data using high-frequency waves. There is even what appears to be a fairly accurate specs list, thanks to an epic leak that was anonymously posted on Pastebin in December. Many of the specs in the Pastebin leak were subsequently confirmed by Sony, though there hasn't been any mention of the headset.
According to the leaker, the PSVR headset will cost an extra $250, support 2,560 x 1,440 resolution, a 120-hertz refresh rate, provide a 220-degree field of view, eye-tracking, come with up to five hours of battery life, and include integrated headphones.
Since many of the Pastebin leaks turned out to be true, fans were similarly hopeful about the headset. Unfortunately, these specs and price point don't line up, though Tom Wijman — a Senior Market Analyst at the gaming market analytics firm Newzoo — tells Inverse that Sony may opt for lesser specs for a bargain price.
"I do expect the new VR model to make maximum use of the rumored power of the PS5," he said. "The next PS VR headset might not boast the same technical specs as some other models announced, but that's because it's in Sony's best interest to keep the headset affordable."
That makes sense, a headset with those specs could likely cost as much, if not more, than the console itself. The recently released Valve Index VR headset retails for $499 and comes with the same refresh rate, similar resolution, but only 130 degree field of view. Unless Sony has some kind of hardware breakthrough, there's little chance it'll be able to match the Index's specs for half the cost.
Sales data suggests that affordable headsets are what will move the market forward. In 2018, the VR market grew to a valuation of $3.6 billion with PSVR leading the push selling 700,000 units in the holiday quarter alone. The Oculus Quest — Facebook's recently released $399 standalone VR headset — is expected to be 2019's best seller.
The PS5 and the potential successor to the PSVR headset are expected to be released in mid-to-late 2020. Wijman believes Sony will aim to cast a wide net, to get as many gamers playing VR as possible. This could mean the company will sell a bundle deal for both its next-console and its headset.
"For it to reach a big audience, it is very likely to be included in some form of bundle," he said. "A headset that is multiple times the price of the console itself is not likely to sell that well."
A bundle of current PSVR hardware with two games retails for $350. It'll be in Sony's interest to keep its next headset within the same price range to compete with Oculus. That might mean sacrificing a few premium specs to make sure it doesn't do too much damage to gamer's wallets.