PlayStation 5: Patent Hints at What Could Be the  Console's Secret Weapon
Sony might have an ace up its sleeve.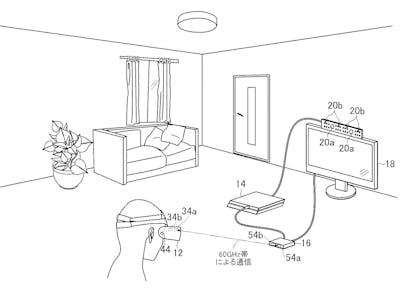 Japan Patent Office
Sony's PlayStation 5 will soon succeed the PlayStation 4 and PlayStation 4 Pro consoles that have exhilarated millions of gamers around the world since their launch in 2013 and 2016, respectively. To set itself apart from Microsoft's Xbox One, Sony has also increasingly leaned into exclusive titles, releasing Spider-Man, God of War, and Detroit: Become Human all within the last year. In addition to more exclusive titles, it now also looks like Sony's next console will use hardware to differentiate from the other consoles and Google's new streaming option, Stadia.
One of the PS5's defining features is expected to be an optimized virtual-reality experience thanks to a new VR-focused chipset that will be housed under the hood. That could be complemented by a new and completely wireless PlayStation VR headset, according to a patent published by the Japanese Patent Office on March 14.
The blueprints — initially submitted more than two years ago — depict a console attachment that connects the headset to the console, as well as a TV-mounted PS Camera that is required to use PSVR. The unnamed attachment would transfer data from the console and camera to the headset using a 60GHz frequency. These millimeter waves have been successfully tested and can wirelessly deliver massive amounts of data at blazing speeds. That could be exactly what is needed to finally cut the cords that continue to be a mainstay of in-house VR sets.
Is the PSVR headset actually workable? The Institute of Electrical and Electronics Engineers (IEEE) tested the frequency, and was able to transfer data at rates of 7 Gigabits per second within a one to ten meter radius. Those are exactly the speeds needed to enable lag-free, wireless VR experiences without forcing players to remain tethered to their consoles.
Laggy VR is no minor annoyance, it can result in serious nausea and a bad user experience. But Yariv Levski, the CEO of software development company AppReal-VR, writes that "any wireless system for virtual reality must have transfer rates exceeding 4Gbps, and preferably exceeding 5.2Gbps" in a blog post. Sony's plans seems to have what it takes to let gamers play full-length VR titles without worrying about getting snagged on wires or damaging their console.
Other wireless VR-gaming headsets — like the Oculus Quest — are standalone, meaning they serve as both the console and the headset. This helps with mobility, but their compact size vastly limits the amount of games that can be stored in them. This new PSVR headset would sacrifice portability, but it would offer an enhanced at-home VR experience, which makes total sense.
The PS5 is also expected to tout a chipset specifically built to boost its VR capabilities, according to subscription news outlet SemiAccurate. The article states that the console will come with a VR-focused chipset making it an instant powerhouse for immersive gaming. But gamers will have a wait a while for its arrival.
One investment analyst believes the PS5 could be released between the end of 2020 and April 2021. Other analysts, like GlobalData's Avi Greengart, think a launch could come sooner: He told Inverse late last year that he expects both Microsoft and Sony to launch their next-gen consoles in the middle of 2020.
Sony first released its PSVR hardware on October 2016 and has yet to drop any upgrades to the equipment. The company is hosting a State of Play even on March 25 to discuss "upcoming PS4 and PS VR software, including new trailers, new game announcements and new gameplay footage." Unfortunately, the event is widely expected to center around current-gen updates instead of anything PS5-related. That said, Sony does state that its presentation is "just the beginning."
The PS5 could not only ring in a new era of console graphics, but its secret weapon could revolutionize the way VR games are played at home.