New Glenn vs. Starship: How Blue Origin and SpaceX's Heavy Rockets Compare
The space industry's two biggest companies are duking it out.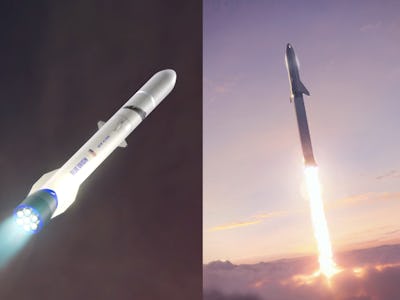 Blue Origin/SpaceX
The battle of the big rockets is heating up. While SpaceX continues developing its Mars-bound Starship, Jeff Bezos-owned Blue Origin is getting ready to fly a heavy rocket of its own called the New Glenn. While both of these super-powerful launch vehicles epitomize the new commercial-driven space race, they both cover rather different visions of the future of exploration.
After the successful completion of Thursday's New Shepard launch mission, talk is turning to what comes next for the firm. CEO Jeff Bezos first unveiled New Glenn in September 2016. The rocket marks a dramatic leap forward from New Shepard, which is only capable of suborbital launches. New Glenn will power heavy orbital launches, with a reusable booster to save on costs. It's part of Bezos' plan to foster a new space economy with more than one million people living and working in space, using Earth as their home anchor.
SpaceX CEO Elon Musk has a markedly different vision. Fresh from launching the Falcon Heavy heavy-lift orbital rocket on its first commercial flight in April 2019, attention has now turned to a follow-up rocket designed to transport humans to Mars and beyond. The Starship, first unveiled under the name BFR in September 2017, is designed to replace all of SpaceX's existing rockets, and its liquid oxygen and methane engine design means humans can use it to return from Mars and even explore further into space.
Musk has declared his goal of erecting a city on Mars by 2050 with propellant depots established to further reaches of space. He said in September 2018, as he was unveiling a trip around the moon for 2023, that "there's so many things that make people sad or depressed about the future, but I think becoming a space-faring civilization is one of those things that makes you excited about the future." SpaceX president Gwynne Shotwell has even described these trips as one of " multiple paths to survival."
Bezos has a slightly different vision. While he supports the goal of space exploration, he's very much a fan of keeping his mail directed to Earth. He told SpaceNews that "my friends who want to move to Mars, I say, do me a favor and go live on the top of Mount Everest for a year first, and see if you like it, because it's a garden paradise compared to Mars. So, we go to space to protect this planet. This is why the company's named Blue Origin: blue planet, it's where we're from. But we also don't want to face a civilization of stasis, and that is the real issue if we just stay on this planet."
These two rockets, the next stage in the two firms' plans, show how these visions are panning out in new ways.
Blue Origin New Glenn vs. SpaceX Starship: Specifications
New Glenn is a beast of a machine. It can lift 13 metric tons (28,660 pounds) to geostationary transfer orbit and 45 metric tons (99,208 pounds) to low Earth orbit. Its seven-meter (22-foot) fairing is a key selling point, as the firm claims it offers double the usable volume of any current launch vehicle. That means bigger payloads going to space, which could make it more attractive to customers. The rocket is expected to measure around seven meters (22 feet) wide and somewhere between 82 and 95 meters tall (269 to 311 feet).
The Starship is slightly more of a mystery, as it's moved to a stainless steel design since its initial September 2017 unveiling. The original version has a diameter of 30 feet and a height of 348 feet. It's expected to carry a payload up to 150 tons (300,000 pounds). The whole thing weighs 9.7 million pounds.
Blue Origin New Glenn vs. SpaceX Starship: Engines
New Glenn uses what Blue Origin refers to as the world's most powerful liquid oxygen and liquefied natural gas engine, the BE-4 which provides 55,000 pounds of thrust. It uses seven of these to generate 3.85 million pounds of thrust for the first stage at sea level. A further two BE-3U engines on the upper stage will be powered by liquid dihydrogen and oxygen. The team finished the engine in March 2017 and tested it later that year:
Starship takes a different approach, with a Raptor engine powered by liquid oxygen and methane. It's expected to provide 38,000 pounds of thrust. That's less than the BE-4, but it will use 31 of these on the booster to produce a liftoff thrust of 5,400 tons (10.8 million pounds). The ship itself will have a further seven engines.
Blue Origin New Glenn vs. SpaceX Starship: Production and Costs
Blue Origin has invested $2.5 billion to date. Musk has suggested that the SpaceX BFR will cost around $5 billion to develop, but the eventual ship could cost less to create than its Falcon 9 predecessor:
Blue Origin New Glenn vs. SpaceX Starship: Will It Go to Mars?
SpaceX has been clear about its intention to use the Starship to go to Mars. The September 2017 plan covered an unmanned launch of two cargo BFRs in 2022, followed by two manned and two unmanned ships in 2024. Musk has subsequently suggested that these launches will come after the mission around the moon scheduled for 2023.
The company still maintains an ambitious timeline for getting to Mars and starting a colony. It's aiming for a city as early as 2050, dedicated to scientific research and understanding more about the red planet. The propellant depot could also enable explorers to move further into the galaxy.
Blue Origin is taking a different approach, instead focusing more on supporting people living and working in space. New Armstrong a future rocket that is expected to come after New Glenn, could support trips to the moon, Mars and beyond. However, Bezos has been keen to underline his company's goal to support millions of people working and living in space, instead of jumping to Mars for survival.
Blue Origin New Glenn vs. SpaceX Starship: Launch Date
SpaceX is making big progress with the Starship. It fired the miniaturized "hopper" at the Boca Chica test facility in Texas back in April. The goal is now to produce an orbital prototype to demonstrate the rocket's readiness for bigger missions. The ship is expected to ferry Japanese billionaire Yusaku Maezawa alongside six to eight artists on a trip around the moon in 2023, but Musk has suggested that the company may complete a test launch before the full mission.
New Glenn, meanwhile, is expected to complete its first satellite launch in 2021. The new space race is about to get a whole lot more interesting.