Tesla Autonomy Day: Alleged Sabotage Attempt Leads to Restraining Order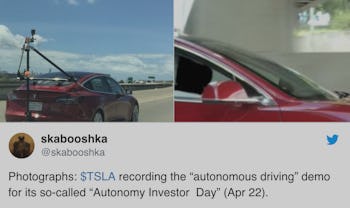 @skabooshka
Tesla was granted a temporary restraining order last week against a man accused of harassing employees and attempting to sabotage a video shot in preparation for an autonomous driving event scheduled for Monday. Tesla also claims the man in question is behind a Twitter account that is influential among a vocal online community of Tesla short-sellers — people who stand to profit from the company's stock dropping in value — and also linked the account to an employee of rival Volkswagen.
Documents filed on April 19 with the Superior Court of California in the county of Alameda claim that Twitter user "@skabooshka" is run by one of two brothers based within three miles of the company's Fremont plant. Local police claim that one of the brothers, Randeep Hothi, struck a Tesla security officer with his car on February 21. The Twitter account has also been linked to two cameras discovered near the facility in August 2018 and January.
"Skabooshka" shared images last Thursday of what it claimed was a company car fitted with cameras. Tesla confirmed that the vehicle was capturing footage for an April 22 event, where it's expected to provide more details about its highly anticipated fully autonomous driving features for existing cars. The Tesla event may also shed light on plans for an upcoming autonomous taxi service, which analysts claim could earn drivers $10,000 per year as owners allow their Teslas to ferry people around while they aren't using the vehicle.
The Alleged Sabotage
On April 16, the day the vehicle was capturing the footage, the three employees inside the car claim a white Acura TL swerved toward the vehicle's lane, at one point triggering the Tesla's safety collision features. The employees, who had no knowledge about any previous harassment cases, called the police.
The documents order Randeep to stay 100 yards away from all Fremont-based Tesla employees and the facility itself, an order that is scheduled to expire at the end of the hearing on May 7.
"Never seen anything like it," Musk commented on Twitter in a discussion about the temporary restraining order. "Tesla is just trying to make electric cars & solar power for a better future for all. True, we might not succeed, but why do they want us to fail?"
Musk also responded to evidence that suggests ties to Volkswagen. The LinkedIn profile of Randeep's brother, Gagan, states that he works for the rival automaker as a senior design technologist.
The autonomy race has been heating up. Volkswagen unveiled its ID Roomzz autonomous SUV earlier this month, with a scheduled release date of 2021 and the promise of level four autonomous driving. Musk has suggested Tesla could beat this deadline, suggesting in February that its fully autonomous driving features would be safe enough by the end of next year.
Volkswagen did not respond to Inverse's request for comment ahead of publication, nor did any company accounts publicly respond to Musk's Twitter post.
Following the court document release, "Skabooshka" published a Twitter post claiming that Musk will go to prison:
It's not the first time Tesla has faced strong criticism from short sellers. The firm was the most-shorted stock in American markets in April 2018, as the company struggled to ramp up production of the mass market Model 3 in a period Musk termed "production hell." Musk toyed with skeptics by claiming on April Fool's Day that the company had gone "bankwupt." In August 2018, he posted on Twitter that Tesla would start selling short shorts on its merchandise pages.
Tesla's responses to these critics has come into question before. An anonymous critic, "Montana Skeptic," claimed in July 2018 that the firm threatened to sue unless they quit writing. The company told Inverse at the time that the writer stopped writing when asked to do so.
All eyes are on Tesla as it prepares for its Monday autonomy event. When the company first announced in October 2016 that it would eventually enable full autonomous driving for all cars built after that date, it promised to hold a coast-to-coast autonomous drive before the end of 2017. That deadline came and went, and Musk later claimed that the firm wanted to focus on a more general solution instead of creating something "brittle." Pronto, a firm co-founded by autonomous driving engineer Anthony Levandowski, claimed in December 2018 that they had completed the drive with zero disengagements using their technology, a sign of the growing competition in the race to reach full autonomy first.
The prizes could be huge — Musk said in an interview this month that an autonomous car could be worth five to 10 times more than a regular car.