Elon Musk Responds to Controversy Over Tesla Critic "Montana Skeptic"
Musk reportedly threatened to sue the writer.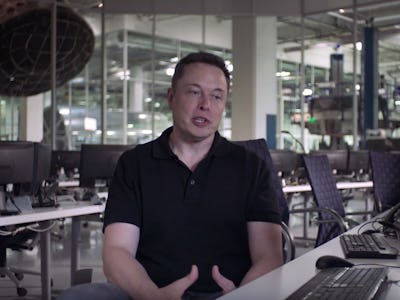 Magnolia Pictures
Elon Musk has responded on social media to the controversy surrounding an anonymous Tesla critic, "Montana Skeptic," who claimed he gave up writing after Musk contacted the writer's place of employment. The Tesla CEO, who reportedly told Montana Skeptic that he would take legal action in response to the critic's negative Tesla articles, responded Wednesday on Twitter by claiming he did not recognize the name before posting a provocative image of singer Miley Cyrus captioned by a demeaning remark.
The Seeking Alpha writer, a Tesla short seller, shared a blog post this week claiming that Musk contacted the principal of the office where the critic works. The principal had doubts that the person who reached out was indeed Musk and asked a colleague to follow up. The colleague then spoke to Musk, who reportedly complained about Montana Skeptic's blogs and Twitter account and threatened legal action. In response, Montana Skeptic shut down the Twitter account and ceased publishing under the anonymous byline.
A Tesla spokesperson, who confirmed the anonymous writer's name, tells Inverse that Montana Skeptic's boss "is a longtime Tesla supporter and was one of the first to purchase a Model S," noting that when the firm asked Montana Skeptic to stop writing, he did.
Musk, in a Wednesday response to a Twitter user asking if the CEO had called Montana Skeptic, stated that he had "never heard of this girl" and it "was probably her Mom." Musk then shared an image of Cyrus, known for portraying the Disney Channel character "Hannah Montana," and captioned it: "They grow up so quickly."
See more: Anonymous Tesla Critic Quits After Claims That Elon Musk Threatened to Sue
Musk on Wednesday also posted on Twitter in support of Dan Neil, a Wall Street Journal reporter who left the platform after his positive Tesla Model 3 review went viral. Neil attracted attention from critics over the story, and Musk claimed in his tweet that the critic "left due to relentless attacks from short-sellers, who constantly peddle fear, uncertainty & doubt about Tesla." He went on to describe Neil as a journalist who "won the Pulitzer & is considered by many to be the best car critic in the world."
The Montana Skeptic fallout comes just days after Musk stirred controversy for calling a man involved in the Thai cave rescue mission a "pedo." The man, Vernon Unsworth, said he was "astonished and very angry" by the allegation, which appeared to be a response to Unsworth's dismissal of Musk's miniature cave submarine as a "PR stunt" that had "absolutely no chance of working." Days prior to the allegation, Musk had told Bloomberg that he "should probably say nothing [in response to Twitter criticism] more often."