Anonymous Tesla Critic Quits After Claims That Elon Musk Threatened to Sue
"Montana Skeptic" was a prominent Tesla critic.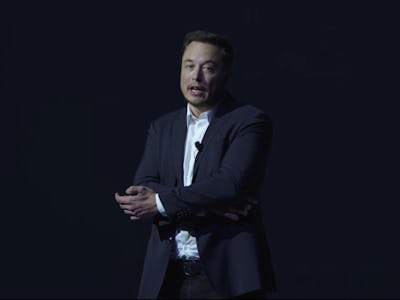 SpaceX/YouTube
An anonymous Tesla critic has announced his intention to stop writing about the company after reportedly having his identity exposed. "Montana Skeptic" claims that CEO Elon Musk contacted their place of work and threatened to sue should he continue to write. The writer, who did disclose his short position on Tesla stock, came under fire after it was revealed he served as a managing director of a firm with a potential investments in the oil industry.
In a post entitled "Farewell for Now" on Seeking Alpha, Montana Skeptic claims Musk contacted the principal of the office at which he works. That individual, who had doubts that Musk "could actually be attempting to contact him," then instructed a colleague to follow-up. After the colleague reached Musk by phone, the Tesla CEO reportedly complained about Montana Skeptic's writing and Twitter account and threatened to seek counsel and sue. In response, Montana Skeptic closed his Twitter account and declared his intention to stop writing about the company. The critic states he is "proud of everything I wrote at Seeking Alpha, and have immensely appreciated the extraordinary support of so many SA members and contributors," which "more than makes up for the endless mendacity and vicious personal attacks I have endured from many Tesla cultists and from publications such as Electrek and Teslarati."
See also: Elon Musk Shares Stunning Tesla Progress Video to Transition Samoa to Solar
Montana Skeptic is a short seller, an investor who stands to make money if the price of Tesla stock declines. Musk has strongly criticized such positions, cutting off one analyst he claimed was a short seller in a May earnings call by calling his question "boneheaded." In a June email, Musk listed short sellers among the number of people that "want Tesla to die."
Exposing the writer has caused controversy in the community. Electrek editor Fred Lambert wrote that "I don't even know how Seeking Alpha let this guy post his blogs anonymously," and went on to describe Montana Skeptic as "an internet troll attacking and insulting people online, which is one of the most cowardly things you can do anonymously." Lambert also wrote that Montana Skeptic "is working for a company heavily invested in the oil industry," which gives "a better idea of his background and biases." A highly-upvoted comment from Tesla subreddit user "canikony," on the other hand, wrote that supporting exposing his identity is "absolutely disgusting" and "if you think this is okay you should be ashamed of yourself."
Seeking Alpha still hosts Montana Skeptic's previous works, four of which are not behind a paywall. In a February story, the writer described shorting Tesla stock as "a gamble," as Musk will "pull more rabbits out of his hat" and the share price "almost surely will have more upward spikes."
A Tesla spokesperson, who confirmed the writer's name, tells Inverse that "Montana Skeptic"'s boss "is a longtime Tesla supporter and was one of the first to purchase a Model S," noting that when the firm asked "Montana Skeptic" to stop writing, he did.