Leaked Tesla Autopilot Video Teases Its Mysterious Monday Event: Livestream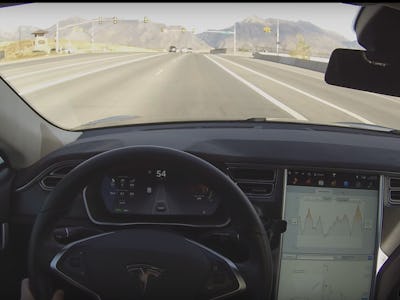 YouTube
Tesla's grand unveiling is almost here. On April 22, the company is expected to shed light on its latest advancements in autonomous driving, a highly-anticipated event where fans are expected to learn more about how existing vehicles will take over more functions from drivers, what Tesla's robo-Uber competitor may look like, and possibly even when these features may launch.
The company first announced the investor day on April 3, and since then anticipation has built steadily. The company promises to "provide a deep dive into our self-driving technology and road map," adding that "investors will be able to take test-drives to experience our Autopilot software first-hand, including features and functionality that are under active development."
It's possibly a major step in Tesla's plans to deliver full autonomous driving, first announced in October 2016 when it unveiled the "Hardware 2" suite. CEO Elon Musk claimed at the time that all cars would come with the necessary cameras, ultrasonic sensors and other hardware to eventually support point-to-point hands-free driving, a major upgrade from the semi-autonomous Autopilot mode that requires users to maintain focus. This suite is notably missing a lidar, like the ones Uber and Waymo use to measure depth, as Musk claims it's unnecessary.
The company has since announced an in-house A.I. chip, capable of processing around 100 times more frames per second than the original Nvidia Drive PX 2 with the added benefit of full redundancy. Tesla charges $5,000 for full self-driving at the time of the car's purchase, or $7,000 thereafter. At the moment, the upgrade unlocks a suite of extra Autopilot features, with full autonomy promised later. But exactly when full autonomy will arrive is very unclear — Musk claimed in February it could be safe enough to use by the end of next year. But overpromising has been rampant among self-driving car initiatives, a problem that's hardly constrained to Tesla.
Musk has lately ratcheted up the rhetoric, declaring in an interview earlier this month that "this seems game, set and match…I could be wrong, but it appears to be the case that Tesla is vastly ahead of everyone."
Tesla Autonomy Day: Leaks Suggest Something Big
A Tesla follower called "skabooshka" shared images Thursday of what could be Tesla preparing for its big event:
According to the tweeter, the company used a red dual-motor Tesla Model 3 to travel 35 miles from 1 p.m. to 1:40 p.m. around the San Francisco Bay Area.
Tesla previously filmed a fully autonomous demonstration back in 2016, and showed how the system could handle obstacles like pedestrians, cyclists and more. But it later emerged that the firm had only conducted limited runs on California public roads prior to the video's release, and none in the following month. Although the company has released further upgrades like "Navigate on Autopilot" that leave the highway at the correct exit, it has yet to offer anything close to the video shown nearly three years ago.
The preparation photos suggest Tesla may be about to provide a big update on its progress, complete with demonstration footage.
Tesla Autonomy Day: Robo-Taxi Could Take Center Stage
Tesla may also provide more details about the "Tesla Network," an upcoming ride-hailing service detailed in the company's 2016 master plan. It involves taking advantage of the 90 percent of the time the average car is not in use, using it to ferry passengers around which hail a ride from their smartphone. Musk claimed earlier this month that the feature would be explained at the event.
Analysis suggests this could offer big savings for consumers. A March 2018 analysis by Loup Ventures estimated that users could make $574 per month, a figure that would include a 10 percent cut for Tesla. This would mean users could easily earn back the money for their lease payments. Another analysis from ARK Invest also showed that consumers could make up to $10,000 per year, assuming a $7,000 down payment and a price per mile of $2.50, about the same as Uber.
Tesla has been thinking ahead about this plan, as Musk revealed earlier this month that the internal camera installed in every car is aimed at offering security for owners with the ride-hailing service.
Tesla Autonomy Day: How to Watch
Tesla's autonomy event is set to start streaming at these times:
11 a.m. Pacific time
2 p.m. Eastern time
7 p.m. British Summertime
8 p.m. Central Europe time
2 a.m. China Standard time (Tuesday)
4 a.m. Australian Eastern Standard time (Tuesday)
The event will be viewable when it starts below:
Alternatively users can follow this YouTube link to tune in.