4 Things to Expect When the 'Star Wars: Episode IX' Trailer Drops This Week
The new trailer is (finally!) almost out. But are fans already expecting too much?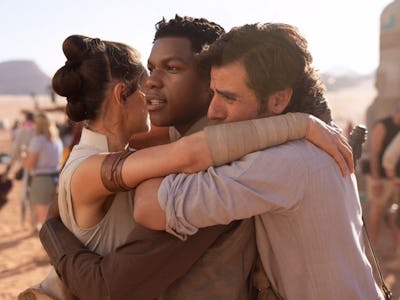 Star Wars.com/J.J. Abrams
This will be a week long-remembered. Two years ago, fans eagerly awaited the first trailer for Star Wars: The Last Jedi, which, was famously released at Star Wars Celebration 2017. But back then, we already had the title of the movie! Now, as Star Wars: Episode IX pushes the saga towards its end at lightspeed, almost nothing is actually known about what is perhaps the most important Star Wars movie in the history of the franchise. But all of that will change on Friday. Star Wars Celebration in Chicago will almost certainly see the release of the Episode IX trailer, and literally nothing will be the same afterward. But are we all hoping for too much? Here's what to realistically expect from the Episode IX panel at Star Wars Celebration on Friday.
Star Wars Celebration 2014 and 2017 Should Teach Us Some Lessons
Relative to The Force Awakens, the advanced lead-up to The Last Jedi was smaller in comparison. While there was a trailer for The Force Awakens a full year and a month before the film came out, the very first trailer for The Last Jedi dropped at Star Wars Celebration in Anaheim, California, on April 14, just eight months before the release. This trailer was rad but famously had Luke Skywalker saying that it was "time for the Jedi to end." In the actual film, the way Luke says this line is different, and the context makes the trailer seem very misleading in retrospect. This happened again with another Last Jedi trailer in which the Rey and Kylo Ren team-up was edited to seem a little more straightforward than it was in the movie.
All the early trailers for The Force Awakens are also very misleading, too. Remember when a creepy voice said, "There's been an awakening, have you felt it?" The trailer made it look like they were talking about Rey, but in the actual movie, Snoke's actually just mad that BB-8 made it back to the resistance.
In fact, nearly all the trailers for The Force Awakens contain at least one element that isn't representative of the final film. The point? The new Episode IX trailer is going to lie to us a little bit.
J.J. Abrams Loves Secrets
Thinking about The Force Awakens, it's important to remember that Episode IX is directed by J.J. Abrams and not Rian Johnson. Though we think of Johnson as being this guy who loves crazy twists, he was actually a little more straightforward in his interviews leading up to The Last Jedi than Abrams ever was, or ever will be. In other words, while Johnson was the director and artistic vision behind The Last Jedi, he seemed less interested in spinning advanced information about the movie.
But Abrams is obsessed with making sure audiences go into movies with expectations that are either confusing or straight-up incorrect. This arguably started with Cloverfield, but let's also not forget that Abrams lied to everyone about Benedict Cumberbatch playing Khan in Star Trek Into Darkness in 2013. In fact, with that movie, Abrams even went so far as to dub certain scenes of Into Darkness where characters said a different name, and then screened those scenes to test audiences and the press. So, if you think J.J. Abrams is going to be honest with any of this trailer footage, or answer questions truthfully from now until December 20, 2019, you're totally wrong. He is Mr. Mystery Box. Nothing is real.
The Trailer Might Be Short
In the interest of keeping things mysterious, it's possible the trailer might not be a full two minutes. Think about it. Lucasfilm has waited this long to release some footage, and they know that everyone is going to see the movie anyway. It's possible — even if a little unlikely — that the trailer might not be as long as we think it should be. The first teaser trailer for The Force Awakens was one minute and 38 seconds long in 2014. Will Lucasfilm pull the same thing here?
When you consider the fact that this will by no means be the last trailer for the movie, it's possible.
They Might Not Reveal the Title
Look. This probably won't be the case. J.J. Abrams and Kathleen Kennedy know fans are freaking out about the title (or subtitle) of Star Wars: Episode IX probably more than is reasonable. And yet, from a publicity standpoint, Lucasfilm kind of needs to do something new with Episode IX. Which is why you could see a version of this where they don't actually drop the title. It would be something they've never done before. But then again, they haven't tried to wrap up the entire Skywalker saga before, either.
Star Wars Celebration in Chicago stars on Thursday, April 11 and runs through Monday, April 15. The Star Wars: Episode IX panel is on Friday, and starts streaming at 11:00 a.m. local time in Chicago (12 p.m. Eastern Standard Time).
Correction: A previous version of this article mistakenly claimed that a line from the Force Awakens trailer didn't appear in the movie. It did, but not in the context the trailer originally suggested. Thanks for catching out mistake Ryan!