Reddit Just Discovered a Stunning 'Last Jedi' Lightsaber Easter Egg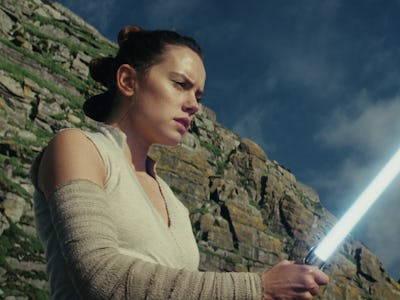 Lucasfilm
I've seen Star Wars: The Last Jedi five times now, most recently because it just went up on Netflix, but Rian Johnson's movie is still offering new things to discover. Reddit just stumbled on a stunning parallel in the way Rey (Daisy Ridley) and Kylo Ren (Adam Driver) swing their lightsabers, which basically foreshadows Kylo Ren's defeat on Crait by Luke Skywalker (Mark Hamill).
On Sunday, a user named egoshoppe posted on a GIF on the Star Wars subreddit, r/starwarsgifs that reveals how Rey and Kylo Ren actually swing their lightsabers in the same way at different times in the movie. In addition to foreshadowing how Kylo Ren would get schooled in the ways of the Force, the symmetry emphasizes Rey and Kylo's connection throughout The Last Jedi.
The discovery has led some Star Wars fans to theorize on the connection. Some believe it's proof that Rey "downloaded" her skills from Kylo during The Force Awakens, while others believe the way Rey wields her lightsaber is what spooks Luke Skywalker on Ahch-To. After all, if Rey and Kylo fight the same way, what else do they have in common?
The original Reddit post has the clip made into one GIF. However, we took the liberty of chopping it up, just to help illustrate the similarities even more clearly.
As George Lucas himself once said, "It's like poetry. They rhyme."
Star Wars: The Last Jedi is now streaming on Netflix.