'Avengers: Endgame' Ticket Sales Break the Internet
Tickets for the final movie in MCU Phase Three are available now. Did you get yours?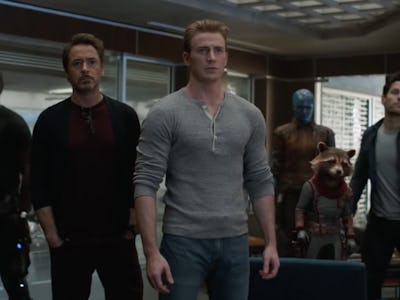 Marvel Entertainment
Avengers: Endgame tickets are available now … Umbrella Academy has been renewed … and the creator of Hands Across America tells Inverse about Us.
Surprise! We're giving one lucky reader the ultimate Game of Thrones prize pack. See full details below, or click here to enter.
I'm Eric Francisco, senior entertainment staff writer at Inverse, and this is Multiverse, your twice-weekly guide to news in the geek galaxy.
This is an adapted version of our Multiverse newsletter, a twice-weekly digest of our essential stories from the geek galaxy. Sign up for free here.
Whatever It Takes (to Get Avengers Tickets)
Tickets for Avengers: Endgame can be yours, right now. On Tuesday, Marvel Studios finally made tickets for the next Avengers movie available for purchase.
It was a long wait, but "True Believers" are finally getting their tickets for Endgame. Some of them, anyway. Due to the demand and sheer volume, Marvel fans on social media expressed relief that they got through the long queue, or major frustration that they didn't. As comedian Daniel Howell tweeted, "successfully booking tickets for endgame was more challenging than the Avengers actually defeating Thanos." Read more.
What's Next: Avengers: Endgame will be released in theaters on April 26.
Read More About Endgame:
Even Game of Thrones Is Spoiling Game of Thrones
Don't watch these Game of Thrones promos if you want to avoid being spoiled. Even HBO can't help themselves in letting a few things slip.
While the world is preoccupied with Avengers: Endgame, HBO released a slew of new promos for Game of Thrones Season 8, the final season of the epic fantasy series based on George R.R. Martin's novels. The trailers are revealing!
Worried about the fate of Sandor Clegane? Is Cleganebowl still on? Read more.
Welcome Back to The Twilight Zone
You click on these links with the mouse of imagination. Beyond it is a review from another dimension. You're moving into an article of both shadow and substance. You've just crossed over into Jake Kleinman's review of The Twilight Zone, the new reboot of the cerebral anthology series produced and hosted by Jordan Peele. Read it at your own peril here.
Us Across America
I won't spoil Jordan Peele's Us, but you should know by now how the film references the very real 1986 fundraiser, Hands Across America. Decades later, its organizer, Ken Kragen, tells Inverse about its inclusion in Peele's newest horror movie, and why the event can't happen ever again. Read more.
Umbrella Academy Lives On
Move aside Avengers, another group of superheroes are getting their due. Netflix has renewed its popular hit superhero series, The Umbrella Academy, for a second season. What could possibly go wrong? Read more.
We Got Like, Urghp, an Update, Morty
Ricky and Morty Season 4 is going great if you ask series co-creator Justin Roiland, who tweeted an update that it's not only happening but that it's "amazing." (Snuffles, the family dog, might also make a return in the new season.) A new commercial, unrelated to the new season, was also released by Adult Swim on March 28. See Roiland's updates here.
Shh, Netflix Has Something for You
It's like Bird Box but without sound. That's the best way we can describe Netflix's The Silence, a new horror movie that will begin streaming on April 10. Like A Quiet Place, we're pulled into a world ravaged by monsters who track victims by sound. The film stars Stanley Tucci and Kiernan Shipka. See the trailer here.
See the Moon Landing in Beautiful HD
A few weeks ago, NEON and CNN Films released Apollo 11, an immersive documentary made up of perfectly preserved archival footage of the Apollo 11 mission upscaled to high-definition. I interviewed director Todd Douglas Miller about how proper film preservation allowed history to be seen in crystal clear HD. Read more.
How a Ninja Movie Influenced Us
I spoke to Us sound editor Trevor Gates, who told us how his work editing the sound mix of the 2013 B-movie Ninja: Shadow of a Tear influenced the "metallic" sound of scissors in Us. Read more.
What do you think? Did you get your tickets for Endgame? How hard was the fight to get 'em? Or are you skipping the next Avengers movie altogether? Let us know in an email to eric@inverse.com, and we'll run the best responses in the Thursday edition of Multiverse.