Why Hands Across America's Organizer Is "Delighted" by Jordan Peele's 'Us'
In 1986, Ken Kragen convinced millions of Americans to stand hand-in-hand. In 2019, Jordan Peele shows the dark side of unity.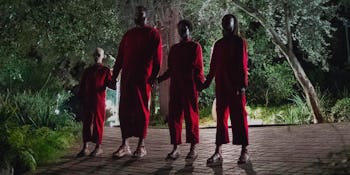 Monkeypaw Productions
Ken Kragen hasn't seen Us, but the organizer of Hands Across America really wants to talk to Jordan Peele.
Since the March 22 release of Peele's new horror movie that frames the 1986 charity into something sinister, there is a renewed interest in the Gen-X cultural touchstone that the Washington Post dubbed "the most Eighties thing to happen in the 1980s." Kragen tells Inverse he just wants to make sure Peele's darker portrayal doesn't outshine the original event.
"I haven't a problem with Peele," says Kragen, who is only avoiding Us because of his dislike for horror movies (though he loved Peele's first film, 2017's Get Out). "I just want him to know the facts."
"It was the greatest success of my professional and humanitarian life. — Ken Kragen
A former country music manager, Kragen organized '80s charities like the all-star jam "We Are the World" and hoped to make a similar impact with Hands Across America. Following nine months of planning and hundreds of employees, on May 25, 1986, Kragen convinced total strangers in the continental U.S. to lock hands in a performance that raised millions for local charities fighting poverty.
Despite the event itself raising fewer donations than the organizers hoped — $15 million is the reported number, but Kragen says it's closer to $17 million — it still inspired a cascade of action. Partially in response to the cultural temperature set by Hands Across America, President Ronald Reagan signed the McKinney-Vento Homeless Assistance Act of 1987, releasing up to $1 billion in 1987 and 1988 for emergency homeless care, shelters, and job training. Millions more, including $30 million from a house appropriations subcommittee were donated to WIC, according to Marty Rogol, director of USA For Africa.
"It was the greatest success of my professional and humanitarian life," he says. "That's the way I view it. We pulled off the impossible. That's why I wouldn't do it again."
After Us, Kragen only wants to set a few things straight for Peele. Not because Peele got anything wrong in his movie, but because the director's recent comments (and the movie itself) have painted the charity event as false and empty. Kragen wants him to know his intentions were real.
In Us, a family on vacation are attacked by their evil twins who carry out long-awaited revenge. Their plot directly and indirectly references Hands Across America. A TV ad plays at the top of the film, which Peele directed ("I don't even remember if we had a commercial," says Kragen) while a recurring motif of interlocked hands appears throughout the movie, from the twins' first arrival to the film's final shot.
"[I]t made us feel like we had accomplished something," Peele told Uproxx about Hands Across America. "And you sort of pick up on … the duality of these things. And so, from there, it took me down this path to really think about this movie in terms of this country and the idea of demonstration or protest, or even performance art, and to imagine what the evil doppelgänger version of what Hands Across America would be."
Here's what Hands Across America was in a nutshell: For ten bucks, participants joined a human chain — populated by normal people as well as quintessential '80s celebs like Brooke Shields, Michael J. Fox, Robin Williams, Tony Danza, and Barbara Streisand — that spread from New York to California. There were no breaks until Arkansas, says Kragen. There were also breaks in Arizona, because 200 miles of people in the desert was "too risky, health wise."
The performance was meant to illustrate unity in a divisive time. In 1986, the Cold War was raging on in its final stretch of years.
Kragen is aware Peele doesn't pervert what he considers one of his greatest accomplishments in philanthropy. His adult children, who are filmmakers themselves, have told him Peele uses it as merely a thematic device. The real demons of Peele's Us are, well, ourselves. We all have dark sides, and we all make empty gestures to feel good without doing anything impactful.
"The last thing we'd want to do is involve Trump. — Ken Kragen
In Manohla Dargis' review of Us for New York Times, she writes that Peele's film "tethers the past to the present" to draw parallel lines to Reagan (under whose administration Hands Across America took place) and that of President Donald Trump, "suggesting that we were, and remain, one nation profoundly divisible." Reagan and Trump are both Republicans whose policies caused/are causing nationwide homelessness rates to rise.
Kragen is no fan of Trump. In fact, he thinks Trump is why (among other reasons) Hands Across America can't happen in 2019.
"The last thing we'd want to do is involve Trump," he says. "There's too much division. And I have a sincere fear the white supremacists and the alt-right would attack the lines."
But Reagan did join hands with America for the event, which prompted protests from prominent activist Mitch Snyder. Kragen says he "totally agreed" with Snyder, but he allowed Reagan to join because he felt homelessness was not a partisan issue. It was a different world in 1986.
"I didn't follow Reagan the way I do with Trump because we didn't have the internet or cable news that was 24 hours," he says, "I wasn't aware of what he was doing. Reagan was a big part of the cause. But we needed a bipartisan attitude to get that many people together."
"We wanted the country to feel like it wasn't a political issue," adds Kragen. "Politics were involved in solutions, but I was calling for people to get involved in their local communities."
To Kragen, that was the true purpose of Hands Across America. He knew it wouldn't eradicate hunger and poverty by itself, but he wanted to inspire the five million with whom he held hands to do something.
After the event took place, Kragen remembers telling people around him at the front of the line in New York: "Now the job is for everybody across this country to go back to work in your local communities and solve these problems. Roll up your sleeves and go to work."
"That was our hope," he remembers now, "Along with doing something to move the Reagan Administration to a more humane and concerned approach."
In 2019, as Reaganism has metamorphosed into Trumpism, Kragen hopes Peele's use of Hands Across America could, in some way, inspire young people again. Even if it also terrifies them.
"I'm delighted he used it," says Kragen. "I admire him, and I admire the work he's doing. I view the movie as a terrific opportunity to get the word out about how good a thing Hands Across America was, and to inspire young people to find some other unique thing to do that will help bring the country back together."
Us is in theaters now.