Apple Earnings Preview: 3 Big Questions Ahead of Tim Cook's Grilling
There's a lot on the table.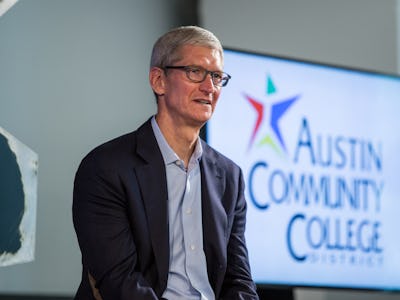 Flickr / Austin Community College
Apple's first earnings call of the year will take place on Tuesday, Jan. 29 at around 5:00 p.m. Eastern, right after the market closes. It'll be a particularly-watched call, even for Apple: The company kicked the year off by striking something of a cautionary note, warning shareholders that its revenue would be lower than expected in a Jan. 2 letter from CEO Tim Cook.
The reasons for the letter? Cook wrote that more iPhone users are replacing batteries rather than upgrading to the latest models, and cited ripple effects from the so-called trade war with China. On Tuesday, the public will get a window into whether those fears were founded, or perhaps, whether the company was simply managing expectations (iPhone XR sales, for example, are already looking better-than-expected, according to one report.)
Come the earnings call, investors will likely be looking for more details around Cook's revised yearly revenue prediction and what the company can do to bounce back. Eyes will be peered for hints about upcoming product lines, as most agree that the star of the smartphone may finally be fading.
3. Will Cook Address Monday's Streaming Scoop?
On Monday Cheddar reported that Apple is gearing up to launch a subscription gaming platform. This followed multiple leaks and rumors all but confirming that the company is set to launch a Netflix-like content streaming service. It'll be interesting to see if Cook rebuffs or confirms any of these claims, or adds clarity as to whether these are separate products.
A game streaming service would make sense, Apple's not known for gaming despite the fact that a recent Piper Jaffray survey found that 82 percent of U.S. teens use iPhones. Apple could leverage the fact that their phones are in the hands of a younger audience to roll out exclusive deals for their service to hardware owners.
Even if the Apple is late to the game, a sizable number of customers that subscribe to, say, Netflix, also pay for other platforms. Innovations like 5G are also expected to help make one of the biggest barriers to gaming streamers — lag times — more of a non-issue.
2. Will Apple Tease Upcoming Wearable Products?
Apple has made a point of highlighting its wearables business in recent public statements, including its previous earnings call and a recent CNBC interview on the part of Cook. The have been rumors of at least one highly anticipated wearables launch this year, a new pair of headphones to succeed the AirPods and possibly another pair of headphones. The company will also probably talk about its Apple Watch, which is quickly becoming the face of its health tech and services business.
The Apple Watch Series 4 was probably the most successful launch Apple had in 2018. Its medical-grade heart monitor made some waves, and future upgrades like fall detection made the Apple Watch seem like a product people might want to buy for their aging parents or grandparents. There could be some analyst questions about whether this part of the business is meeting expectations, and how or whether they plan on continuing building health functions into the Apple product line.
1. How Will Apple Approach Questions About Unit Sales?
Those listening in on the call will be expecting a positive spin on the quarter, but it will be interesting to how Apple quantifies their success given that the company will no longer report its unit sales. It will still report revenues and growth, but these numbers paint a less precise picture of which devices are selling best.
It will also be interesting to see if the company drops any hints about its upcoming launches. Rumors have hinted that the iPad mini 5, a 10-inch iPad, an AirPods wireless charging case, and potentially the long-awaited AirPower wireless charger could all be on deck for a potential product announcement during the next quarter.
Supply chain rumors have already indicated that the AirPower is in production and destined for a 2019 launch. Given that AirPower was supposed to launch last year, and was announced in 2017, it also seems possible that it could come up if analysts press Apple about potential trade-related hiccups in the supply line.