China's Promise to Crack Down on US-Bound Fentanyl Called Into Question
Trump's "game changer" may not be what it seems.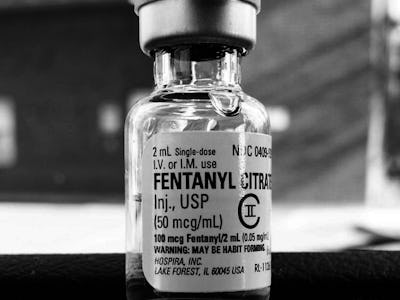 https://instagram.com/p/7VjEHSGJhr/?tagged=fentanyl
As they ate on Saturday, Chinese President Xi Jinping made President Donald Trump a promise about China's role in the United States fentanyl supply. At their dinner during the G20 Summit, President Xi pledged to designate fentanyl a controlled substance in China, a move that would signal the country's unprecedented willingness to crack down on the drug that's been played a major role in the US opioid crisis. Though it's certainly a big move on China's part, not everyone believes it will make a positive impact.
As former Attorney General Jeff Sessions pointed out in August, illicit fentanyl and fentanyl analogs from China play a major part in the US's opioid overdose crisis, a public health crisis that claimed 42,249 lives in 2016. The Trump administration has proudly proclaimed this move will put the nail in the coffin of this devastating issue.
"What he will be doing to fentanyl could be a game changer for the United States and what fentanyl is doing to our country in terms of killing people," Trump told reporters aboard Air Force One after the weekend's summit.
"Very importantly, President Xi, in a wonderful humanitarian gesture, has agreed to designate Fentanyl as a Controlled Substance, meaning that people selling Fentanyl to the United States will be subject to China's maximum penalty under the law," White House Press Secretary Sarah Sanders said in a statement.
But experts argue that a move on China's part isn't enough to create change.
The Chinese Foreign Ministry, for starters, did not echo President Xi's statement of unqualified support. While he said that China would change the legal status of fentanyl, the Foreign Ministry did not announce a new designation for fentanyl or the penalties for manufacturing and selling it. The Ministry remained vague on the details, "committing only to enforcing the laws around fentanyl and stating that it would examine how it managed the drug," reports NBC.
In August, representatives for the US Drug Enforcement Administration told Inverse that the flow of illicit fentanyl and fentanyl analogs from China into the US — by way of Mexico — has replaced the older heroin and methamphetamine markets. As fentanyl became cheaper and easier to make, thanks in part to the availability of widely available academic papers on the subject, Chinese suppliers, Mexican distributors, and US buyers adapted and evolved to sell the new drug.
This is why, even if President Xi's government makes good on its promise, the illicit fentanyl market will most likely find a new way to do business. The Chinese criminal organizations involved with trafficking fentanyl in North America have had little trouble getting Chinese government officials to cooperate, reported Canada's Global News in November.
"What makes them so robust, according to sources, is their ability to corrupt Chinese officials, which allows them to control chemical factories in southern China and get fentanyl through Chinese customs and to the West," the outlet reported. If that is the current state of affairs, it stands to reason that a new law on the books in China could do little to stop these gangs from operating. And even with an official policy, it's entirely possible that business would continue behind the scenes. On Saturday, Global News reported that diplomatic tensions between China and Canada have left China unwilling to help stem the flow of fentanyl into Canada — though officials won't admit it publicly.
Fentanyl, which is between 50 and 100 times as potent as morphine, has increasingly shown up in drugs in the US, including heroin, cocaine, and counterfeit pharmaceuticals. In many cases, it's used to enhance the potency of illicit drugs, and the buyer will not know fentanyl is present. Because of the extreme variability in potency that this creates, drug users can easily overdose on what they assume is a safe amount.
Or, as when they shifted from heroin to fentanyl, they may simply shift to other compounds, such as fentanyl analolgs like carfentanil or U-47700, which are many times more potent.
Whatever the case, there remain serious questions about China's interest in standing by any sort of promise regarding fentanyl. On Monday, US news outlets began noticing that Chinese state media outlets were offering a different version of President Trump's meeting with President Xi than what was communicated by the White House. On Sunday a statement from Chinese Foreign Minister Wang Yi indicated that the US and China were working to eliminate all tariffs, contrary to the story offered in the White House's official statement.
With such fundamental disagreements floating around after what the Trump Administration called a very hopeful meeting for the future of the US opioid overdose crisis, it's hard to see that much will change as a result of Trump and Xi's deal.