Illicit Synthetic Opioids are Fueling a Rise in Overdose Deaths, Says CDC
Black market fentanyl plays a huge role.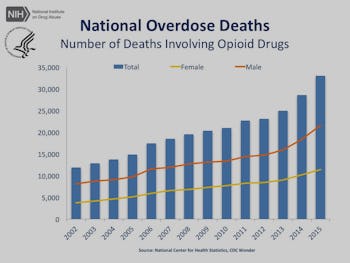 National Center for Health Statistics, CDC Wonder
Opioid overdose deaths more than doubled in the past decade, killing over 40,000 people in the United States in 2016, according to the latest numbers from the U.S. Centers for Disease Control and Prevention. CDC officials confirmed on Thursday that synthetic opioids, including illicitly manufactured fentanyl, are in large part responsible for this increase.
The U.S. is in the midst of a massive public health crisis that affects people all over the country, of all ethnicities, education levels, and socioeconomic statuses. As part of its public health mission, the CDC tracks drug overdose deaths. In the group's Morbidity and Mortality Weekly Report published Thursday, CDC doctors outline how synthetic opioids were responsible for far more of the increase in overdose deaths from 2015 to 2016 than other drugs. While prescription opioid deaths rose by 10.6 percent and heroin-related deaths rose by 19.5 percent, deaths from synthetic opioids — besides methadone — more than doubled.
Doctors report that fentanyl bears the majority of the blame for these deaths, specifically fentanyl that is illegally manufactured. Over the past few years, the opioid, which is about 10 times more potent than heroin, has been found in all sorts of illicitly manufactured drugs, including heroin, cocaine, ecstasy, and benzodiazepines. Drug users buying black market drugs often ingest fentanyl in dangerous quantities without even realizing it — and the problem is growing.
"No area of the United States is exempt from this epidemic — we all know a friend, family member, or loved one devastated by opioids," CDC Principal Deputy Director Anne Schuchat, M.D., said in a statement. "All branches of the federal government are working together to reduce the availability of illicit drugs, prevent deaths from overdoses, treat people with substance-use disorders, and prevent people from starting using drugs in the first place."
The CDC can't handle this ballooning problem on its own, and as such, it emphasizes the importance of a buy-in from doctors, government, and law enforcement. CDC officials recognize that state and local governments will need to contribute to fighting the opioid crisis, which takes coordination across agencies.
"Effective, synchronized programs to prevent drug overdoses will require coordination of law enforcement, first responders, mental health/substance-abuse providers, public health agencies, and community partners," said the report's lead author, Puja Seth, Ph.D., in a statement.