'Deathstroke' Director Aiming for "Korean New Wave Noir" (If It Happens)
Gareth Evans gives an update on his 'Deathstroke' for DC/Warner Bros.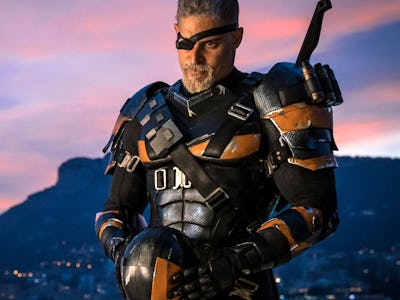 Warner Bros.
It's been almost a year since Joe Manganiello appeared as Slade Wilson in the post-credits scene of Zack Snyder/Joss Whedon's Justice League, an obvious foundation for a sequel and even a spin-off Deathstroke film.
But production has stalled on Deathstroke. In the interim, the only known director officially tapped for the project, Gareth Evans, tells Inverse what his pitch for the violent DC comic book anti-hero looked like.
"I was interested in following a sort of Korean new wave of noir films as a sort of influence and touchstone for the kind of style and tone the film could take," Evans tells Inverse while doing press for his new horror film Apostle, streaming now on Netflix. "We were really interested in origin stories that could be told."
The Korean "new wave" Evans refers to are the critically-acclaimed arthouse and blockbusters that emerged out of South Korea after the new millennium. These include films like Joint Security Area and Oldboy from Park Chan-wook, the monster horror The Host from Bong-joon Ho, the thriller I Saw the Devil from Kim Jee-won, and crime dramas like The Chaster (dir. Na Hong-jin), New World (dir. Park Hong-jung), and A Bittersweet Life (dir. Kim Jee-woon, again).
And as an auteur known for violent genre films like his Indonesian martial arts movies The Raid and The Raid 2, Evans' Deathstroke sounds like a compelling concoction when combined with a mainstream Hollywood superhero — one that also happens to be a grounded and gritty anti-hero like Deathstroke.
But Evans is still waiting for those conversations with Warner Bros. to continue.
"I went off to make Apostle and didn't hear anything since then," Evans says. "It's been a good, good, good while since I've had any conversations about that project. I don't know what's gonna happen, or when, with me or without me."
Evans did talk with star Joe Manganiello, whom the director had nothing but high praise for.
"We bounced a few ideas," he says. "I had a follow-up call with Joe Manganiello, who is the most dedicated and passionate person you could hope for to play Deathstroke. But in terms of my involvement, it never went further than that. I haven't heard anything since."
While Deathstroke waits in the wings, Evans is already cooking up his next project. Gangs of London, an HBO/Cinemax series currently in pre-production, will be a contemporary action thriller that is expected to premiere in 2020. As for movies, he's interested in directing a non-martial arts action film in the style of Ringo Lam and John Woo.
"I'm very drawn to trying my hand at the heroic bloodshed genre that John Woo popularized in Hong Kong action cinema," he says. "That might be the next film."
Inverse reached out to Warner Bros. for comment on the status of Deathstroke and will update when we hear back.
Apostle is streaming now on Netflix.