All You Need to Know About Deathstroke After 'Justice League'
If there was any villain Lex Luthor would be smart to ally with, it's Deathstroke.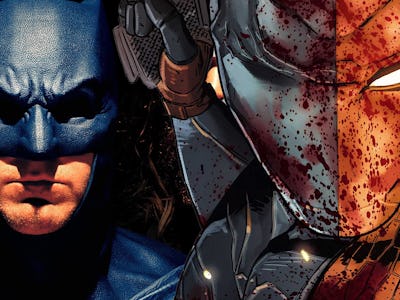 DC Comics, Warner Bros. Pictures
Before Marvel unleashed Deadpool, DC had Deathstroke wrecking havoc. And unlike Marvel's foul-mouthed killer, Deathstroke is no joke.
This post contains some spoilers for the end of Justice League.
While it's no secret that Warner Bros. is working on a Deathstroke movie that's set to be part of DC's shared cinematic universe, it was a surprise when Joe Manganiello (True Blood) made his on-screen debut a lot sooner than expected in the post-credits scene of Justice League.
But for those unfamiliar with DC's merc without a mouth, and a right eye, here's all you need to know about the man they call Deathstroke.
Injected with a special serum that enhances his already extraordinary skills, Slade Wilson is a U.S. army veteran who is deadly as both a hand-to-hand combatant and marksman. Originally operating under the moniker "The Terminator" (before Arnold Schwarzenegger), Slade Wilson entered the DC Universe as a mercenary who went after the Teen Titans to help his son, Ravager, in Marv Wolfman and George Pérez's New Teen Titans #2 in 1980.
Slade quickly became a fan favorite, earning his own solo comic Deathstroke the Terminator in 1991 until it was retitled just Deathstroke a few years later. Currently, legendary comics writer Christopher Priest pens Deathstroke's ongoing adventures in Deathstroke: Rebirth, which launched in 2016.
Although an enemy of the Teen Titans at first, Deathstroke soon became a formidable foe to Batman himself. As an expert martial artist and tactician, comic writers have had a lot of fan pitting Batman against Deathstroke on several occasions, even letting Deathstroke get the best of the Dark Knight.
This is why Deathstroke continues to be a mainstay in Batman media, from comics to video games (like Batman: Arkham Origins) and movies; in late 2016, Manganiello appeared in a Facebook video from Ben Affleck, confirming Deathstroke will be in The Batman.
The Deadpool Conundrum
It's lost on no one that Deathstroke looks a lot like Marvel's Deadpool, who at the moment has way more cultural clout than Deathstroke thanks to his movie. But Deathstroke predates Deadpool by at least nine years. When Deadpool was being made by Rob Liefeld and Fabian Nicieza in the early '90s, Nicieza allegedly gave Deadpool the name "Wade Wilson" as a pretty unsubtle in-joke.
The Arrowverse
If you already know who Deathstroke is, chances are you know him from the comics, or from the TV series Arrow, where Slade Wilson/Deathstroke has been a major antagonist and recurring character. Played by Manu Bennett (The Hobbit, The Shannara Chronicles), Slade Wilson/Deathstroke is an old friend turned enemy turned friend again of Oliver Queen, aka the Green Arrow. In Season 2, Slade tried to unleash an army of criminals injected with the super drug "Mirakuru" ("Miracle" in Japanese-English).
Since Season 2, Bennett has returned as Deathstroke, with a more prominent presence at the moment in Season 6.
Injustice League
In the post-credits of Justice League, Joe Manganiello made his on-screen debut as Deathstroke in a scene with Jesse Eisenberg's Lex Luthor. Together, the two villains are scheming to start "a league of their own," teasing the formation of the Injustice League in future DC movies.
Justice League is in theaters now.
If you liked this article, check out this video where the stars of Professor Marston and the Wonder Woman talk about how psychology helped create Wonder Woman.