DC's Looking at 'The Raid' Director to Make a Badass 'Deathstroke' Movie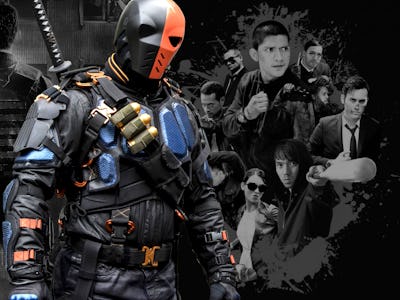 The CW, Sony Pictures
The DC movie universe is about to get a lot more hardcore. A new report states that Gareth Evans, director of the 2012 Indonesian martial arts movie The Raid: Redemption and the 2014 sequel The Raid 2, is in early talks to direct an untitled solo Deathstroke movie for Warner Bros. starring Joe Manganiello.
While The Hollywood Reporter says that "no deals have been completed," the mere fact Evans is circling the project is very promising.
For starters, it's the first evidence a big screen Deathstroke, a popular anti-hero who began as a Batman villain from the comics, is still on the way. For a time, Deathstroke's status in the DC movie universe seemed in doubt when Ben Affleck stepped down as writer and director of The Batman, which the actor-director had previously teased would feature Manganiello as Deathstroke.
Second, martial arts and action movie buffs tend to agree that Evans's Raid movies are some of the best, and most violent, movies in recent memory, bar none. The films are known for predominantly demonstrating the brutality of the Indonesian martial art, pencak silat. While Deathstroke may or may not be a silat master, the character is an expert assassin, and Evans has undeniably proved himself as a sharp action director.
For now, fans can tune into the television series Arrow, where Manu Bennett has a recurring role as Deathstroke.