3 Reasons Joe Manganiello Is Perfect to Play Deathstroke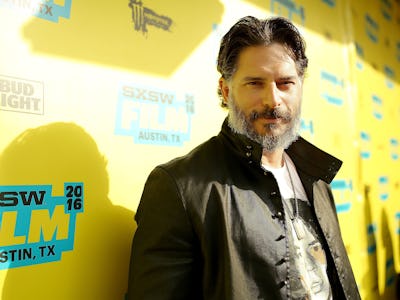 Getty Images / Mike Windle
Batman has an enemy in Deathstroke, and the man behind the mask is none other than Joe Manganiello. The True Blood alum who showed his abs in Magic Mike has reportedly signed on as the DC assassin in Ben Affleck's upcoming Batman movie, which does not have a known title as of this writing.
Manganiello, who has already donned Deathstroke's Promethean armor in blurry footage Affleck kindly shared on social media, just might be the best choice to portray Slade Wilson, even after Manu Bennet's amazing turn at the character in the DC TV series Arrow. Here are just three reasons why.
3) Dude is actually funny.
Deathstroke isn't like his Marvel parody Deadpool. Slade Wilson isn't snarky or even remotely funny, but Manganiello has unbelievable comedy chops, which is a good quality to have for a character hiding behind a mask for probably 90 percent of the time. See: Will Smith's Deadshot.
Before True Blood, Manganiello had a minor recurring role in How I Met Your Mother as Brad, a big brawny dude with intelligence equal to a salami. He "dated" Jason Segel's Marshall, although it was all just a silly miscommunication.
In later seasons Manganiello returned as Brad, now a rival attorney to Marshall who had something Marshall didn't: Sweet abs, which he used to woo the jury (and the judge).
Does Slade Wilson have to be funny? Absolutely not. But it doesn't hurt to have a little humor that's as sharp as his Promethean sword.
2) Manganiello's got younger energy.
Before Manganiello, the last person to play Deathstroke was Manu Bennett in the CW's Arrow and rocked it. He was also in his early 40s. Manganiello is 39 now, and though it's not a major difference in age, Manganiello does have a much livelier energy than the grizzled Bennett.
Deathstroke has long been portrayed as hovering in his 40s and 50s (but with strength and speed far superior than anyone half his age), but Manganiello represents a new kin of change to Deathstroke, no matter how minor.
1) The new Deathstroke is leaner and meaner.
Current Deathstroke writer Christopher Priest and artist Carlo Pagulayan have reinvented Deathstroke in DC's Rebirth has being leaner (and meaner) than he's ever been. Pagulayan specifically modeled his Deathstroke around Snake and Raiden in Metal Gear Solid, which is a far cry from Schwarzenegger in his prime.
Past versions of Deathstroke have been beefy, and while "lean" is the last word to describe Manganiello, the guy does have a shapely silhouette that isn't merely "thick." The new Deathstroke in Affleck's Batman also resembles Raiden in Metal Gear Solid, so it's not a bad choice at all they got Manganiello to wear the armor.