DC Is Keeping Deathstroke Off 'Arrow' for a Mystery Project, But Why?
Slade Wilson won't be coming back to 'Arrow' anytime soon. The reasoning is confusing. …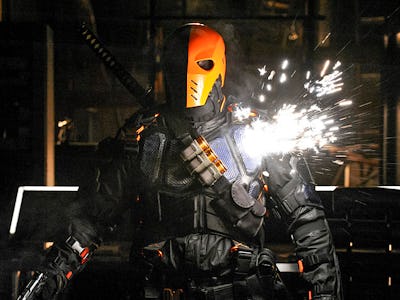 The CW
Slade Wilson, aka Deathstroke, is one of the best villains to ever come out of Arrow. Actor Manu Bennett soared as the one-eyed assassin, and it was a role he made his own. But Slade hasn't been seen since his single guest appearance last year in Season 3, where he was left at the A.R.G.U.S. prison on Lian Yu. And according to Arrow co-showrunner Marc Guggenheim, he's going to stay there for a long, long time. Until DC says so.
On his personal Tumblr, Guggenheim fielded questions in an informal Q&A. When a fan asked about the possible return of Deathstroke, Guggenheim replied: "The character of Slade Wilson is currently tied up in another DC project. Walter is more likely."
Not only is it disappointing Arrow is keeping one of its best characters the show, but it's also confusing as to what the hell DC is thinking. This is the comic book brand that is playing fast and loose with its characters' live-action adaptations: They have a wildly successful The Flash TV series, but are still bothering to produce a separate big-budget feature starring the same exact character. They have Supergirl, who until recently wasn't meant to be a part of their sprawling TV Arrowverse, and have an in-continuity Superman. There is also a young Batman in Gotham. Neither have anything to do with the upcoming Batman v Superman: Dawn of Justice. Don't even get started reasoning why Shazam is standing on its own.
Pleasantly surprising is that these half-assed connections haven't bothered many diehard fans or casual viewers. There doesn't have to be one singular Batman or Superman across media; Superman Returns was released in theaters when Smallville was on the air, after all.
But in the new blockbuster era that's obsessed with continuities and extended universes, where is DC getting off at keeping Deathstroke away from Arrow and using him for another mysterious project?
Perhaps exclusivity is a newly-adopted strategy for Marvel's most direct rivals. Arrow recently cleared out Amanda Waller and already ditched its version of the Suicide Squad, which was clearly not to step on the toes of Warner Bros. and the upcoming Suicide Squad movie releasing this August.
Lost in Guggenheim's Tumblr post is the hint that Martin Steele could return to Arrow. It's a little random, given that Oliver's stepfather has been basically forgotten. But it's nice DC remembers something about its characters.