Ben Affleck Leaks Deathstroke Clip From 'Batman' Solo Film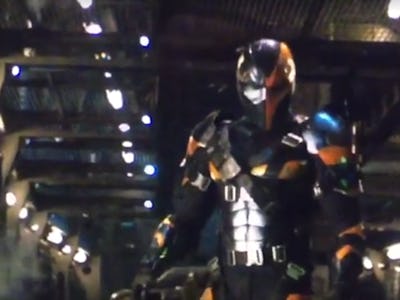 Facebook.com/BenAffleck
This article has been updated. The Wrap has confirmed that Deathstroke will be the primary antagonist in Ben Affleck's 'Batman' film.
Ben Affleck posted a grainy video of Deathstroke on his official Facebook page today, from his future solo Batman film. The thirty -second video, shot on a smartphone, shows DC's ruthless assassin, Slade Wilson (aka Deathstroke) looking terrifying while he surveys a situation we can't see. He looks like he's in a warehouse or a garage, or even the back of a military plane.
The character looks like he leapt right off the page, and is arguably the most accurate-looking character in the DCU thus far, aside from Batfleck. Deathstroke's armor looks slimmer, compared to the character's previous appearance in Season 2 of Arrow, where he was played by the hulking Manu Bennet. Bennet was a force of nature as Deathstroke, but we're still excited to see the DC Cinematic Universe's interpretation of the ruthless assassin.
Several months ago, Arrow showrunner Marc Guggenheim said on his Tumblr page that Deathstroke was being kept off television for "another DC project." With phrasing like that, Deathstroke could have been involved in anything, but it turns out it's the DC project of the year.
DC's next Batman film does not currently have a release date, but Warner Bros. will release Justice League on November 17, 2017.