3 Types of People Who Will Love the New iOS 12 Shortcuts Update
The app just got smarter.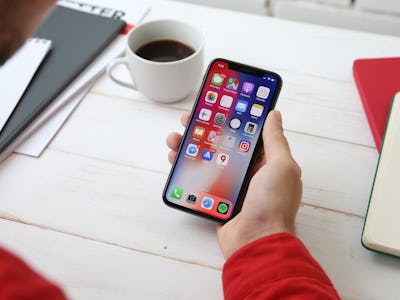 Unsplash / Yura Fresh
Apple's newly launched scripting program, Shortcuts, lets iOS 12 users create their own custom Siri commands using a smorgasbord of apps, and this week, the selection of apps compatible with Shortcuts became a little wider.
Apple highlighted 14 new third-party apps that can now be accessed using Shortcuts.
This adds to the roster of over 60 apps that already came with Shortcuts integration, giving the most adamant Shortcuts fans even more room to get creative with their command crafting.
These new additions include detailed weather apps to augment morning smartphone routines and note-taking software that can be used to quickly save visual or written records. iOS Shortcuts can be molded to help make anyone's daily iPhone use more streamlined, but these updates will benefit three types of people specifically.
iOS Shortcuts: For The Commuter
Whether commuters are taking public transit, hopping in a car or riding a bike to work one thing remains constant: They need to know how to dress and what to expect on the road. Shortcuts has already enabled users to create some complex morning routines that can read out news, calendar events, and transit times. Now, even more is possible.
Apps like CARROT and Dark Sky, and can provide a rain report, UV index, and even give users a radar breakdown. Citymapper delivers real-time departure times for bus, trains, bike-share, or Uber. And people can now ask Siri to locate their keys or wallet using the Tile app.
All of this will make sure commuters are making efficient use of their time in transit and not forgetting anything important.
iOS Shortcuts: For The Workaholic
More productivity functionalities are coming to Shortcuts. There are a plethora of pre-made productivity commands in the app's Gallery menu ranging from a text translator to a receipt or document scanner.
Users can now quickly access Evernote and Day One through Shortcuts to quickly jot down thoughts, create audio notes, compile a photo journal, and share them all.
Fantastical, Trello, Things, and Omnifocus will now let you professionals easily collaborate with easily accessible calendars and sharing tools right from your iPhone's home screen.
iOS Shortcuts: For The Health Conscious
Using tech to track exercise, calorie, and water intake data can help many people lead healthier lives. However, many fitness trackers, like the Apple Watch Series 4, can be pricy and having to manually input data into an app everyday can be cumbersome. That's where Shortcuts comes in.
Waterminder, Lose It!, MyTherapy, and Headspace are now all compatible with Shortcuts. This means with a simple voice command users can log how much time they've worked out or meditated without having to open an app. No smartwatch? No problem.