First Look at Vin Diesel's 'Bloodshot' Appears in ROWW Charity Fundraiser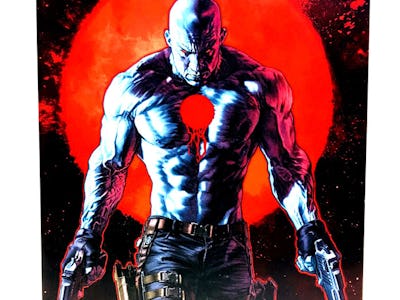 ROWW
We're finally getting a first look at Vin Diesel's take on Bloodshot in the live-action film based on Valiant Comics character, and it's come from an unexpected source: a video game charity to support worldwide natural disaster relief.
On Thursday, Reach Out WorldWide (ROWW), a charity founded by the late actor Paul Walker, announced a partnership with Microsoft for the fourth annual livestream Game4Paul, which will begin broadcasting today at 4 p.m. ET on Tiltify, Facebook Live, Twitch, and Mixer. The livestream will include an array of rewards fans can donate money to win, some of which include the first public pieces of the upcoming movie Bloodshot, set for release in 2020.
Exclusive Bloodshot merchandise up for grabs include a special "Bloodshot" Xbox One console signed by Vin Diesel, a copy of Bloodshot Salvation #1 (signed by the cast and crew of the film), plus mugs, statues, and plush dolls (all signed), and even a pair of custom Bloodshot Converse Chuck Taylor All-Stars (yes, those are signed too).
There is also a one-of-a-kind copy of Bloodshot Salvation #12, with a variant cover illustrated by Lewis LaRosa, that is one of the first official peeks at the new movie as it depicts Diesel in full Bloodshot gear and make-up.
Based on the Valiant Comics character, Bloodshot stars Diesel as Raymond Garrison, a super soldier whose special abilities come from "nanite" computers running through his bloodstream. The film is directed by Dave Wilson, written by Eric Heisserer (Arrival), and produced by Neal Moritz, Toby Jaffe (Happy!), and Dinesh Shamdasani (former Valiant CEO and Chief Creative Officer). Co-starring with Diesel are Guy Pearce, Eiza Bonzalez (Baby Driver), Sam Heughan (Outlander), and Talulah Riley (Westworld).
See some of the Bloodshot merchandise up for grabs below.
The Game4Paul livestream will also feature appearances by Vin Diesel and his Fast & Furious franchise cohorts, including Tyrese Gibson and Sung Kang, as well as Paul Walker's brother Cody Walker, CEO of ROWW.
Game4Paul will begin streaming online today at 4 p.m. ET, 1 p.m. PT. Sony's Bloodshot has a scheduled release date for 2020.