Everything to Expect From Today's Google Product Launch
There could be a surprise.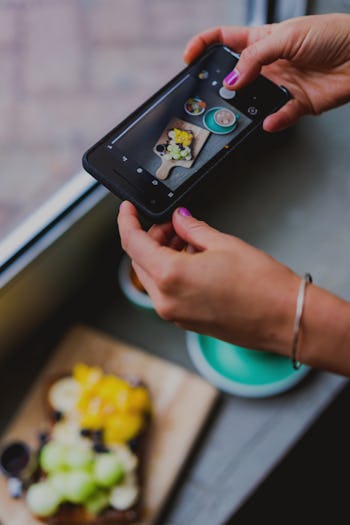 Unsplash / Dan Gold
Calling the Google Pixel 3 and 3 XL one of the most leaked smartphones of the year would be an understatement. Tech fanatics know its design, accessories, features, and even a potential price range thanks to a group of blogs that got their hands on the unreleased device months in advance.
But of course, Google's smart, and there's already been a fair bit of chatter that they might try to pull a "one more thing…" stunt by announcing an even bigger hardware roster on October 9 than we previously expected. The most interesting theory claims that a never-before-seen Pixel phone will make a debut next to the other two, heavily leaked handsets.
These rumors are all speculative and assume pretty wildly that Google is playing 4D chess with its customers, leakers, and the tech press. However, surprise product announcements are hardly unusual, either. It's hard to make a splash in the busy October product season. Here's what we could see today.
Google Announcement: Pixel Ultra?
In addition to the Pixel 3 and 3XL, there's also a rumor of a secretive advice that's been dubbed the Pixel Ultra. It's been said to be completely notch-less, in direct contrast to the deeply notched 3 XL. These rumors allege that Google has purposefully been leaking its other two phones to hype up the Ultra.
YouTuber front page tech who has consistently critiqued the 3 XL's notch, claimed that a Google representative reached out him for permission to use a clip of one of his videos for a montage that will air during the launch event. While he wasn't able to disclose the exact snippet of video, all of his videos regarding the leaked phone have been negative.
The logic goes: Why would Google put together a video of YouTubers knocking on the 3 XL's notch? To unveil a totally bezel-less phone that no one saw coming.
There's no hard evidence to prove these claims, so definitely expect the the 3 and 3 XL that we've seen floating around the internet. But don't totally rule out a surprise announcement, either.
Google Announcement: Google Home Hub
There's also a pretty good chance we'll see a smart speaker with a display, which is a bit of a trend (Facebook launched something kind of similar yesterday with the Portal, a video conferencing tool). It's rumored to be just like the Google Home, except for of course a screen that enables some new functionality like watching YouTube. Some renders have already been leaked by the tech site MySmartPrice. It's supposed to go for around $149.
Google Announcement: Pixel Slate
In addition to the Pixel smartphones and the home hub, we could also see Google roll out the Pixel Slate, a laptop and tablet hybrid. That leak is courtesy of the leaker Evan Blass, who didn't disclose anything about where it came from but has had a pretty good nose for promising leaks in the past.
Google Announcement: Pixel 3 and 3 XL
There's no way around these two. The Pixel 3 XL will probably be priced at somewhere between $729 and $749 and the 3 will start at $649 according to the torrent of leaks about the phone.
The larger of the two will tout at 6.2-inch OLED screen with a widely-hated top-notch housing two front-facing cameras. It's unclear exactly how big the Pixel 3's screen will be but expect it to have a square 16:9 ratio screen, with no notch.
Both phones will come bundled with a fast charger, a pair of Pixel Pods, and multiple adapters, according to Russian blog Rozetked. The 3 XL has been said to come with wireless charging capabilities, which will work seamlessly with the Pixel Stand wireless charger that the company is also expected to debut alongside the handsets.
The biggest feature potentially coming to the Pixel duo is the so-called "Super Selfie" mode. According to anonymous sources interviewed by 9to5Google, both phones will come retrofitted with two front-facing camera sensors and a wide angle lens. This could enable camera feature akin to that of the LG V40 ThinQ, enabling users to take spacious selfies and make photo edits after the image has already been taken.
So this could be a launch of everything we've expected with an outside change of something totally out of left field. You can follow along with the announcement on the company's YouTube page, starting at 11 a.m. eastern.