LG Drops the LG V40 ThinQ, a Massive Phablet With Monster Camera Features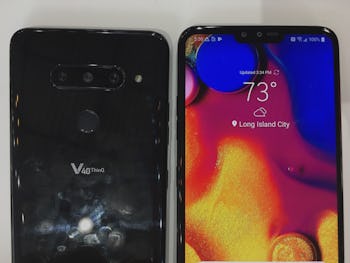 LG unveiled the V40 ThinQ, its photography-forward flagship smartphone, at a New York media event on Thursday. The announced device touts five cameras, unique photo editing features, and a stunning 6.4-inch OLED display to view the selfies and panoramic images users take.
As expected, the biggest selling point is the V40 ThinQ's ability to take photos. Company executives showed off the distinct quintet of lenses not found on any other smartphone by highlighting that the V40 ThinQ will put the versatility of owning a camera with multiple lenses right in your pocket.
"It raises the bar for photography, audio quality, and artificial intelligence," said David VanderWaal VP of marketing at LG. "We feel confident that our first five-camera phone will let anyone take professional-grade photos. The V40 ThinQ is the perfect phone for the content creator."
The device will hit shelves on October 18, and range in price from $900 to $980 depending on the carrier. It will also come in black or blue color options. LG is also offering a pre-order bundle that includes a DJI Osmo Mobile 2 phone stabilizer and a 256GB microSD card to expand the phone's baseline 64GB memory capacity. This makes it the ideal phone for travel bloggers that would benefit from a multi-lens camera that's also relatively easy on the wallet.
LG V40 ThinQ: Camera Features
The phone is first and foremost a tool for mobile phone photographers thanks to a pretty vast arsenal of lenses. Its back panel houses a standard 12-megapixel lens, a "super wide-angle" 16MP sensor, and a 12MP telephoto lens capable of 2x optical zoom.
The smartphone's notch also contains both an 8MP standard lens and a 5MP wide-angle sensor that will let users take spacious selfies of everyone at a dinner table. But don't worry, all of these options won't get overwhelming.
Users won't need to switch between the different lenses when they're using the rear trio. The V40 ThinQ will simultaneously snap a photo with the standard, wide-angle, and telephoto camera and lets you choose which lens length suits the scene the best.
LG V40 ThinQ: Specs
The handset will be powered by Qualcomm's Snapdragon 845 processor that will enable depth-of-field editing after users have already taken a photo, like the iPhone XS and XS Max. This will enable smartphone photographers to tweak their shots, making the V40 ThinQ a photo editor and shooter wrapped into one.
It'll only come in one storage capacity — 64GB — enough to hold roughly 16,000 pictures. But that can be expanded by separately purchasing a microSD card to capture hundreds of thousands more.
Against all odds, the V40 ThinQ will keep its headphone jack. It will also provide Qi-wireless charging capabilities and run Android Oreo.