iPhone XR: Colors, Specs, and Shortcomings With the iPhone 5C Follow-Up
This is more than just a paint job.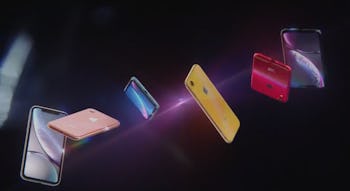 In addition to two new flagship iPhones, the iPhone XR is here to right the wrongs of the long-discontinued iPhone 5c. But unlike Apple's colorful 2013 release — which was seen as repackaged tech and subsequently flopped — the XR comes with some serious internal improvements in addition to its cool colors and a more reasonably accessible price-point.
That's why the XR might succeed in winning over the customers unconvinced by the iPhone X, or who were turned off by the iPhone 5c's plastic, and therefore non-luxurious, feel. Powered by Apple's state-of-the-art A12 Bionic processor, the smartphone will run with the same benchmark performance as the XS and XS Max minus a few flashy features.
That said, the XR also lacks in the display department and has nowhere near the camera capabilities of its ritzier counterparts. But for lots of people, it should more than make up for it with its $749 price tag — which is slightly less than the iPhone 8 Plus' launch price — thanks to its screen size and its rainbow aesthetic.
iPhone Xr: Will It Be Here In Time For The Holidays?
Unfortunately, users will have to wait a month longer to get their hands on these candy-colored handsets compared to the XS and XS Max. The pre-order window for the Xr kicks off on October 19 with units shipping on October 26, so it'll arrive a month ahead of the all-important holiday shopping season.
Apple didn't elaborate as to why this year's budget model would lag behind its other two devices, but a July report by a Morgan Stanley analyst Katy Huberty predicted these delays. She suspected that they were due to "LED backlight leakage" issues the 6.1-inch LCD smartphone was facing during production.
iPhone Xr: Unique Colors
The Xr's most flashy feature is its extensive color palette. The newly announced device comes in six distinct colors: yellow, white, coral, black, blue, and red. This ups the ante from the 5c's color options which were limited to five selections: green, blue, yellow, pink, and white.
Last year's Apple releases were short on color options, with the iPhone 8 and 8 Plus coming in silver, space gray, and gold. The iPhone X only had two variants, silver and space gray. The iPhone XR gives users that want more a unique device the opportunity to differentiate their purchase from the rest.
Affordability coupled with unique colors could innovation enough to make the Xr the best selling iPhone out of the bunch. A DigiTimes report anticipates that this year's iPhone orders will surpass 85 million with over half of them being Xr units. This estimate is based on supply chain information that could be subject to change as the year goes on. But if this proves true, it could be the 5c comeback that nobody saw coming.
iPhone Xr: Under the Hood
The 6.1-inch LCD smartphones comes in three storage capacity sizes 64-gigabytes, 128GB, and 256GB. These will cost $749, $799, $899 respectively. This makes it comparably priced to the iPhone 8 that was priced at $849 for the 256GB option, but the iPhone Xr comes with far more screen for your buck.
The iPhone 8 Plus was 6.24 inches in length and 3.07 inches wide but came with a 5.5-inch display. The Xr clocks in at 5.94 inches in height and 2.98 inches in width but packs 0.6 more inches of display.
The colorful iPhone is also retrofitted with Apple's newly developer A12 Bionic chip. This new processor uses a 7-nanometer design instead of the 10-nanometer design used by the A11, which powers the iPhone 8, 8 Plus, and X. A more compact processor results in increased computational power at reduced battery demands, meaning the Xr is faster at the cost of less energy than its predecessors.
Apple claimed the XR should have around 12 and a half hours of battery life. That's an hour and a half improvement from the iPhone 8 Plus that was measured to half roughly an 11-hour life span between charges.
iPhone Xr: What It's Missing
In order to keep the cost of the XR below that of the XS and XS Max, Apple had to cut some premium features from the smartphones. For starters, the screen is a liquid crystal display (LCD), compared to the more vibrant — but more energy demanding — organic light-emitting diode (OLED) screens of its counterparts. This results in slightly duller colors and pixel density.
The XR clocks in at 326 pixels per inch compared to the XS and XS Max's 458 ppi. The cheaper iPhone also has a 1,792 by 828 resolution, while the XS and XS Max come in at 2,436 by 1,125 pixels and 2,688 by 1,242 pixels respectively. This means you'll notice less details and shading when you're watching videos or playing mobile games on the XR compared this year's two premium releases
Lastly, the XR comes with a single, 12-megapixel rear camera, while the XS and XS Max come with a dual rear camera. The absence of a dual rear camera will mean the budget option won't have the same capabilities to create crisp bokeh blur effects for your photos and it won't have the same zoom capacity.
All-in-all, if you choose to go with the Xr you will be sacrificing the dazzling OLED screen and the advance camera effects the XS and XS Max come with. Casual smartphone users that aren't constantly taking photos, videos, or playing mobile games probably won't notice all that much. You'll save roughly $250 with this model, while getting the same A12-powered performance the XS and XS Max come with.