How to Preorder the iPhone XS and iPhone XR (AKA the iPhone 9)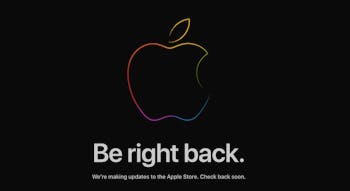 Apple 
Apple took down the Apple Store to begin making some updates on Wednesday morning in anticipation of its imminent product announcement. But not before some stealthy leakers were able to pull the product names of the three new iPhones — the iPhone XS, the iPhone XS Max, and the iPhone XR — straight from a snippet of XML code. That put an end to one of the announcement's biggest mysteries.
If prior years are any indication, you should be able to preorder your iPhone XS pretty soon, since Apple usually makes the orders available within a couple days of the launch (leakers arrived at the September 12 launch date in part by noting that Wednesday would give Apple the traditional two days between the product announcement and when the products appear online.)
For those who remember last year's iPhone X rollout, this will be more of a return to normalcy. The iPhone X didn't go on presale until several weeks after the announcement, hitting the Apple Store in earnest on October 27 last year. After that, it was another few days until the formal launch on November 3.
When You'll Be Able to Order the iPhone XS and iPhone XR?
Some sites, often citing retailers, have already reported the official preorder date of the new iPhones as of this Friday, September 14. If those pan out, which seems likely, then you may want to set an alarm: Apple traditionally makes preorders available at 12:01 a.m. Pacific, or 3:01 a.m. Eastern.
The easiest way to preorder is through the Apple Store on your iPhone device, which should be the first place to let you customize and save your order for later. You can also try patiently refreshing the new iPhone webpage on Apple's site until the magical blue "buy now" button appears in earnest.
If web outages or sell-outs thwart you, your next-best option is to try one of the brick and mortar Apple stores, which will probably have them in stock, and also your carrier (for example, Verizon or AT&T), which also traditionally get some stock of the new iPhones shortly after they're made available on Apple.
As to the more budget-friendly iPhone XR, you'll likely have to hold out. Past reports indicate that Apple will likely want to use the iPhone XS and iPhone XS Max to suss out demand for the new models before making the sure-hit XR — which packs the iPhone X's punch into a cheaper package — available to the wider public.
More headlines from the Apple 2018 iPhone Announcement: