iPhone X and iPhone 8 Resale Guide: How to Cash in Ahead of the New iPhones
Resell to make your upgrade cost much less.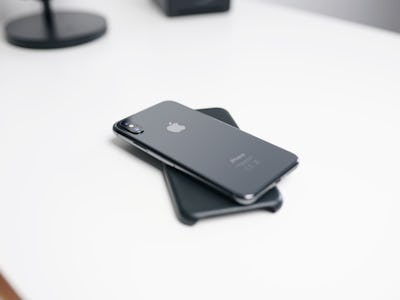 Unsplash / Nikolay Tarashchenko
Are you contemplating swapping out last year's iPhones for this year's potential iPhone XS models? Well you better hit eBay or Craigslist right now, because selling your used iPhone X or 8 can still net you at least half of the money you spent on them in the first place.
Depreciation happens to pretty much everything we own, but smartphones are especially affected because every year newer tech leaves prior releases in the dust. Fortunately for you, iPhone resale data analyzed by resellers Decluttr and MusicMagPie, last year's iPhones are reselling at historically high prices. That said, you'd better act fast: if previous buying and selling cycles are any indication, there will soon be a steep decline in how much these handsets sell for online.
Let's take a look at the data. Decluttr's price graph shows that used, 256GB iPhone X handsets are going for around $730 while 64GB iPhone 8 models are going for $416 ahead of Apple's September 12 announcement. This means you could at least get half of the money you spent on them back to apply to your upgrade.
During this same period last year, the 128GB versions of used iPhone 7 and iPhone 6 were reselling for well below half of their retail price.
What's Going on With the iPhone X?
There are many potential reasons why the X and the 8 have been slow to drop in resale price. One driver could be the speculations that Apple will halt production of the iPhone X, though CEO Tim Cook has attempted to shut these rumors down in public statements. Fewer available iPhone X models from Apple would result in a beefier price tag in online marketplaces, assuming people are still buying it (which, at least based on the reseller data, certainly seems to be the case.)
Another likely possibility is that people really like the iPhone X, and see 2018 as a good year to give their wallet a break. Reports and rumors have suggested that this year's Apple handsets will only be an incremental upgrade from the iPhone X, with mostly under-the-hood improvements along with the notched screen, Face ID, and OLED already featured in the iPhone X. This could suggest that users will just stick with what they got instead of upgrading.
This sentiment has been common amongst many Reddit users: "Apple's gonna have to impress me, I think," said redditor ShezaEU. "It's gonna have to be a bit more than just a larger iPhone X."
iPhone Resale Guide: Should You Upgrade? The Pros.
At the end of the day, this all comes down to how satisfied you are with your current device or if you're itching to try out new tech. Apple is expected to announce three new iPhones come September 12: two 6.5 and 5.8-inch OLED models alongside a 6.1-inch LCD handset, which will essentially be the iPhone X with a cheaper screen.
This year's premium version, the so-called iPhone XS Max, is anticipated to start at the same $999 price tag that the 5.8-inch iPhone X was announced with. But at 6.5 inches, the iPhone XS gets you a whole lot more screen for the same price of last year's high-end iPhone if you upgrade. That's much larger than the 5.5 inches, a smartphone needs to qualify for phablet status, and larger than both the Pixel 2XL and the Samsung Galaxy S9+.
Upgrading would likely net you performance upgrades, as well. It's been said that Apple's next generation of processors — the A12 chip — have entered production and could ship with this year's new releases. They've been described as making use of a 7-nanometer design, which should run laps around the 10-nanometer, A11 Bionic chip that's inside of the iPhone 8, 8 Plus, and X.
The A11 houses a six-core CPU with two performance cores and four efficiency cores that were touted to be 25 and 70 percent faster than the previous A10 chip, respectively. A new chip could mean improvements along these lines.
iPhone Resale Guide: Should You Upgrade? The Cons.
But if more screen and better performance don't really call your attention, then sticking with the iPhone X could be an option. While there will undoubtedly be improvements to this year's line of iPhones, there won't really be any game-changing feature debuts.
The iPhone X introduced the notched screen, Face ID, and an OLED display, three marquee features that two of 2018's iPhones have been rumored to also come with. This could make the upcoming iPhone XS models seem like slight improvements on the big changes that the iPhone X brought about in 2017. But nothing is certain until Apple's keynote at the Steve Jobs Theater.
So if the iPhone rumor cycle has sold you this year, you might want to get to selling your current smartphones soon. These resell prices will likely drop come September 12.
iPhone Resale Guide: Where Do I Sell My iPhone?
There are a few routes you can take when selling or trading in your iPhones. The first is Apple's GiveBack program, which is a great option if you want to upgrade your phone and don't feel like selling it yourself. This service will swap out your old iPhones for an Apple Store gift card to go toward your next purchase. That said, price estimates are still not available for the iPhone X or 8. Those will likely appear once the next trio of iPhones is announced.
Gazelle offers a similar service, but you'll receive a Amazon gift card, PayPal transaction, or check as payment. A mint-condition iPhone X can net you $520 on here, so if you're just looking for some money back this could be a fast and simple way to do so.
For the biggest cash out you'll have to take to online marketplaces like eBay or Craigslist which of course requires a little more hustle. Both of these come with more risk and take more work, but if you want something near the high end these resale prices this will be your best bet.