Elon Musk Smokes Weed and Talks Cybernetic A.I. Collectives on Joe Rogan
The CEO stated that he 'almost never' smokes.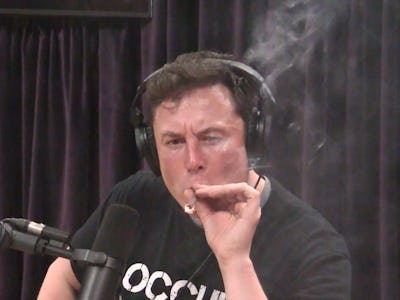 PowerfulJRE/YouTube
Elon Musk chatted about super-smart machines taking over the world while smoking cannabis, during a live appearance on The Joe Rogan Experience Thursday. The tech entrepreneur appeared on Rogan's podcast, where the pair discussed artificial intelligence, climate change and other issues facing humanity. Rogan shared with Musk his weed, which has been legal since January in the state of California where the podcast was filmed.
Musk at first appears skeptical, but rebuts suggestions from Rogan that stockholders may disapprove, stating that "it's legal." He subsequently accepts a glass of whiskey by saying that "alcohol's a drug, it's been grandfathered in." Around eight minutes later, Musk checks his phone to look at what he states are text messages from friends asking "what the hell are you doing smoking weed?" He later explains that "I'm not a regular smoker of weed," saying that he smokes "almost never…I don't actually notice any effect…I know a lot of people like weed, and it's fine, but I don't find it very good for productivity…it's like a cup of coffee in reverse. I like to get things done, I like to be useful, that is one of the hardest things."
See more: Elon Musk Confirms When He Will Appear on Joe Rogan's Podcast
During the same interview, Musk spoke to Rogan about how Facebook and Twitter were examples of "cybernetic collectives of people and machines" where humans are "plugged in like nodes on a network, leaves on a big tree." Humans are "collectively programming the A.I." by feeding it information, in effect making humans the "biological bootloader for A.I." The comments echo previous statements that humans and machines need to develop a symbiotic relationship before it's too late and humans become enslaved, a key focus of his new firm Neuralink.
A New York Times article claimed last month that board members are worried about Musk's use of recreational drugs. Musk dismissed suggestions that his proposal to take Tesla private at $420 per share was a reference to "420" in marijuana culture, stating that "it seemed like better karma at $420 than at $419, but I was not on weed, to be clear. Weed is not helpful for productivity. There's a reason for the word 'stoned.' You just sit there like a stone on weed."
The CEO's appearance came after he promised in June that he would appear once the Tesla Model 3 electric vehicle reached a production rate of 5,000 cars per week, which it met at the end of that month. The company is now aiming to reach a goal of 6,000 per week.
With Musk's companies aiming in the coming years to launch a rocket to Mars, release an electric truck and further develop a hyperloop, the pressure is on to meet targets.