Tesla Model 3 Report Claims Company Missed a Key Production Goal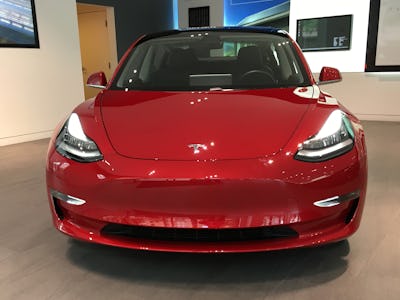 Flickr / mariordo59
Tesla isn't producing the Model 3 as fast as it hoped. That's according to a Sunday report that claims the company did not meet its goal of producing 6,000 cars per week by the end of August. The report does note, however, that the company is still likely to meet its overall quarterly goal of between 50,000 and 55,000 Model 3s.
The Electrek report, citing an insider source, claims the company produced around 6,400 vehicles from August 24 to midday on August 31. Once the Model S and Model X are taken out of the equation, the company produced around 4,300 Model 3s, which also falls below its end of June goal to produce 5,000 Model 3s per week. However, the company is still expecting to meet its quarterly target by the end-of-month deadline, having so far produced 53,000 vehicles total and 34,700 Model 3s. Tesla is still aiming to reach its 6,000 per week target despite missing the August deadline.
See more: Elon Musk's Goal to Make 5,000 Tesla Model 3s a Week Looks Within Reach
Tesla has been working hard to meet its production goals to fulfil the hundreds of thousands of $1,000 reservations for the company's cheapest electric car, which entered production in July 2017 with a starting price of $35,000, albeit with the company fulfilling more expensive configurations first. CEO Elon Musk expected to reach a rate of 5,000 cars per week by December 2017, but an over-reliance on automation led to issues in the production line and caused setbacks.
In July, Musk announced that Tesla met its goal to reach a production rate of 5,000 per week by the end of June. The total figures also included 2,000 Model S and X vehicles. The company part achieved this figure through use of an external tent, known as general assembly line four, that was constructed over just two weeks.
Tesla has rapidly expanded from its Model S sedan and Model X sports utility vehicles that catered to a more expensive buyer, but it's not stopping there. The company plans to unveil a Model Y cheaper sports utility vehicle next March, similar to the role the Model 3 played in relation to the Model S.
Tesla is expected to give more information about production during its next quarterly earnings call, likely to take place around the start of November.