Elon Musk's Massive Assembly Line Tent Seems to Be Working 
Model 3 production is ramping up.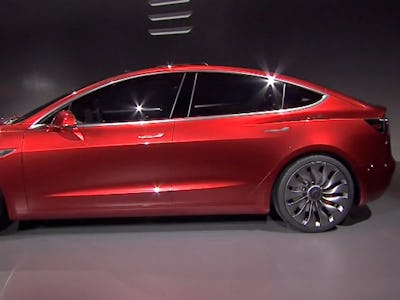 Tesla
It's go time in Fremont, California. We're less than a week from Elon Musk's self-imposed deadline to begin produce 5,000 Tesla Model 3 cars per week, a goal so ambitious the company erected a new tent-enclosed assembly line. In a sign of confidence, the company tells Inverse it's opening up pre-orders to everyone who finalizes their Model 3 reservation and is also lowering prices on the Model 3 Performance and Dual-Motor All Wheel variants.
"In the coming days, all Model 3 reservation holders in the U.S. and Canada will be invited to order their Model 3 based on when they placed their reservation," a company statement reads. "Delivery estimates will be shown to customers as they make their selection, dependent upon their order date and the vehicle configuration selected."
Some now-deleted employee Tweets suggested that the company is poised to hit the goal in terms of battery production. But it won't be clear until Tesla's next production report whether the company is actually producing enough cars to prove Wall Street short sellers and other skeptics wrong.
Fortunately for Musk, what started out as an adaptive measure seems to be yielding dividends. In a late-night Tweet reply to the reporter Raj Mathai, Musk said the company's assembly line tent has "slightly higher quality than the more traditional general assembly line" and is even keeping down costs.
If Tesla does indeed get this latest milestone under its belt, the company will prove it can ramp up production of its more mass market cars fast enough to meet staggering demand, a key proof point for investors who want to see evidence that their investment will pay off. Musk talked about this in a note to employees explaining the company's recent layoffs.
"Profit is obviously not what motivates us," Musk said at the time, explaining the move. "What drives us is our mission to accelerate the world's transition to sustainable, clean energy, but we will never achieve that mission unless we eventually demonstrate that we can be sustainably profitable."
Even if Tesla is able to get the Model 3 production up to speed, the question remains whether the company will be able to sustain that pace, and for how long.