Tesla Job Cuts Mostly Salaried Positions; No Production Associates Affected
Tesla Model 3 production will be unaffected by the layoffs, according to Elon Musk.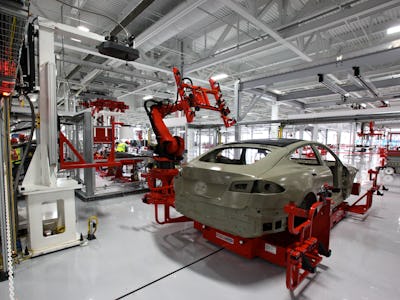 Flickr / jurvetson
Tesla CEO Elon Musk took to Twitter to share the memo he sent to employees informing them of a company reorganization that will result in the layoff of approximately 9% of its global workforce. According to Musk's memo, the job cuts are almost entirely directed at salaried employees and shouldn't affect the production ramp up of the Tesla Model 3, which Musk said the recent shareholder meeting is projected to be at 5,000 a week by the end of the month.
The news was first reported in the media by the Wall Street Journal, a fact Musk alluded to when he shared the "unfiltered" memo himself.
"In the almost 15 years since we have existed, profit is obviously not what motivates us," Musk said, explaining the move. "What drives us is our mission to accelerate the world's transition to sustainable, clean energy, but we will never achieve that mission unless we eventually demonstrate that we can be sustainably profitable."
People affected by the layoffs will be informed this week, according to Musk's Tweet. Tesla also announced that it would be ending its partnership with Home Depot, though Tesla employees working at those locations will be given the opportunity to move to a Tesla retail location. Musk also said the salary and stock vesting being offered as severance would be "significant."
The 3,500 or so cuts are necessary for the company to turn a profit by the end of the year. Tesla already generates the most interest among short sellers of any large company, as the Financial Times noted in March, meaning it's already the most popular bet among the people who guess which companies will fail.
On the other hand, layoffs of this size are not unusual for large companies, even in a relatively strong economy. Deutsche Bank, the biggest lender in Germany with operations all over the world, recently announced it would be laying off about 7% of its workforce; and layoffs at troubled retailers have become all but commonplace.
Building cars is also more cost-intensive than most industries: As Musk himself has sometimes pointed out, along with Ford his is the only auto company that's never declared bankruptcy.