Tesla Model 3: Elon Musk Reveals Surprising Method to Reach Production Goal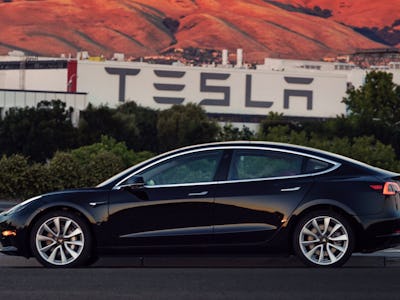 Elon Musk
Elon Musk is using some unconventional means to ship the Tesla Model 3 in big quantities. Aerial shots show the company's Fremont plant is using a large tent to house an expansion of the assembly line. The CEO explained on Twitter Tuesday how the idea is helping the company meet its goals.
Tesla is working to fulfil the hundreds of thousands of $1,000 reservations for the company's cheapest car, which entered production in July 2017. After achieving a production rate of over 2,000 per week in the company's most recent report, Musk has suggested the company will reach 5,000 by the end of the month. On Tuesday, it emerged that part of this plan involved a tent construction housing a general assembly line that took two weeks to build. During this time, the construction team "also poured the concrete & built the whole assembly line using scrap we had in warehouses." Musk declared "it's way better than the other GA line that cost hundreds of millions!"
Musk has upped the ante in recent days as the company prepares to deliver its latest production report in the next three weeks. On Monday, he suggested the report would leave short sellers (investors that stand to gain money if Tesla stock drops in price) high and dry, causing their position to "explode." In an email to employees last week, Musk said that some aspects of the production line had already reached 700 cars per day, just shy of the 5,000 goal.
The Tesla Model 3 is by far the company's cheapest ever car with a starting price of $35,000, and the pressure is on for a rapid expansion to transition into a mass production car company. Failure could spell trouble for the firm, and Goldman Sachs warned investors in April that it expected the company to only produce 1,400 cars per week that quarter, necessitating a return to the markets to raise capital. These fears proved to be unfounded after the company's earnings report.
Musk will receive a big reward if he pulls off this ambitious plan. The company announced a plan in January, later approved by shareholders in March, that could be worth as much as $55.8 billion if he meets specific performance goals over the next 10 years.
If Tesla succeeds, it could make it one of the fastest-growing automakers in history.