Elon Musk Just Threw Down the Gauntlet After Goldman Sachs' Tesla Warning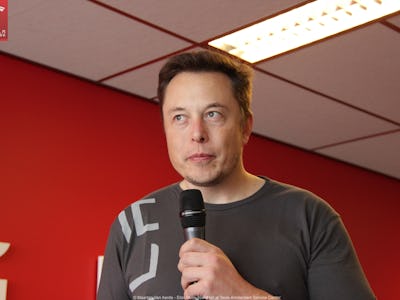 Flickr / TeslaClubBE
Elon Musk is not standing still. The Tesla CEO posted a short message on his Twitter page Tuesday in response to Goldman Sachs cutting his company's stock price target. The analysis firm predicted the automaker will struggle to meet its goals for Tesla Model 3 production, pushing it to raise additional capital later this year.
Tesla just had an impressive first quarter delivery report where it produced 9,766 Model 3 vehicles and 2,020 in the final seven days alone. It's not quite the 20,000 per month rate Musk predicted by December 2017, but it's a marked improvement over the 2,425 produced in the previous quarter. Goldman Sachs predicted the company would sustain Model 3 production at around 1,400 per week for this quarter. Tesla reassured investors that it wouldn't need to raise capital this year, but Goldman Sachs noted that this was based on a sustained 5,000-per-week production rate. Musk dismissed calls from Goldman Sachs to sell Tesla stock.
His latest intervention has drawn a mixed response. In a story titled "For the Sake of Investors, Tesla CEO Elon Musk Needs to Be Quiet on Twitter," The Street writer Brian Sozzi argued on Wednesday that all Musk is doing with his off-the-cuff interventions "is showing why you shouldn't be a public company CEO." Provoking Goldman Sachs is attacking the group of people "that at some point may help raise the money Tesla badly needs to survive."
Investors themselves didn't seem too disturbed by Musk's intervention. Tesla's stock has continued from its strong showing last week, closing Tuesday 5.2 percent up from opening. This follows the 14.5 percent gains from last week, its largest rise since the 17 percent in the week of February 28, 2014, and the end of a five-week slide.
Tesla will need to maintain its momentum when it releases its next production report in three months time, which should shed light on whether Tesla needs more funds to continue building its cheapest-ever car.
Musk needs to pull ahead if he still wants that $55.8 billion reward package — he needs to increase Tesla's market cap by around $600 billion for the full payout.