Tesla Model 3 Production May Not Be Sustainable: Goldman Sachs
More skepticism from Wall Street. 
by James Dennin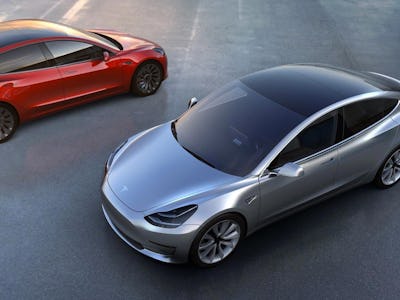 Tesla
Wall Street is still skeptical of Elon Musk's production targets for the Tesla Model 3 and on Tuesday, analysts at Goldman Sachs reiterated their position on the company's stock in a research note the company shared with Inverse. The note explains that while Tesla may hit 5,000 cars per week, it questions whether that pace is sustainable.
"We see the possibility for Tesla to meet the objective, given incremental assembly lines added to the Model 3 program," the note reads. "However, the question that will remain is how sustainable that run-rate of production is for 3Q18 given the historical volatility of the Model 3 production rate, where Tesla has taken intermittent downtime."
Taken together, Goldman expects Tesla will have produced 28,000 vehicles between April and June, roughly in line with some previously reported statistics from Business Insider which estimated that the company had produced some 30,000 Tesla Model 3s for the year.
What's at Stake With Tesla Model 3
The ramp up of the Tesla Model 3 has still been impressive, but Goldman Sachs notably doesn't say that hitting 5,000 cars per week is even unlikely. Instead, the analysis questions whether Tesla employees will be able to burn the candle at both ends — or give rise to massive tents to house impromptu production lines year-round.
To be fair, Goldman is somewhat bearish on Tesla compared to the general consensus estimates. The Tuesday note raises its projection for the quarter from 19,000 cars to 22,000, which is still a fair bit below the consensus estimate of 28,000.
As to who's right? We'll know a lot more when Tesla announces its production numbers in its quarterly earnings which is expected to be July 5, based on previous patterns.