Elon Musk's Tesla Model 3 Tent Assembly Shown in Impressive Timelapse Video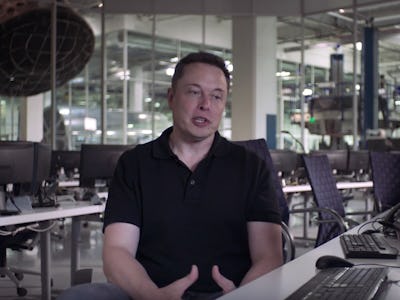 Magnolia Pictures
Elon Musk has been working hard to get the Tesla Model 3 production up to speed. A timelapse video published Wednesday shows the company hard at work, building a tent by the Fremont plant to reach Tesla's goal of producing 5,000 cars per week by the end of this month.
The pressure is on for Musk and the team. The Model 3, which entered production in July 2017, is the company's cheapest ever car. Tesla has planned an aggressive expansion for production and delivery, intially hoping to produce 5,000 cars per week as soon as December 2017. While the company missed that goal, only producing 2,425 cars in the entire foruth quarter, it's gradually stepped up to reach 2,000 per week by the start of April. That places Tesla on track to become the fastest-growing automaker, faster than Ford's Model T, but to continue fulfilling the 400,000 or so $1,000 pre-orders and turning them into cars starting from $35,000, Tesla wants to go even faster:
The tent, referred to in a leaked report as General Assembly line 4, took just two weeks of construction by pouring in concrete and building the assembly line from scratch. However, the report claims the construction has only produced 100 cars and it's unlikely to reach the higher levels seen on other lines for a while.
Tesla is under big pressure to deliver. An April report from Goldman Sachs cut the company's stock price target and suggested the company would only reach a sustained production rate of 1,400 cars per week for the quarter, necessitating a return to the capital markets. Musk responded to rumors that Tesla may go bankrupt this year by tweeting an April Fool's joke.
Musk has gradually ratcheted up the pressure on naysayers that claim the company can't deliver. Earlier this week, he claimed short sellers have three weeks before their position will "explode," referencing the upcoming quarterly production report.
The pressure is on.