Elon Musk Appeared on Joe Rogan's Podcast: How it Happened
Once 5,000 Model 3s are running off the line smoothly, expect Musk to talk with Rogan.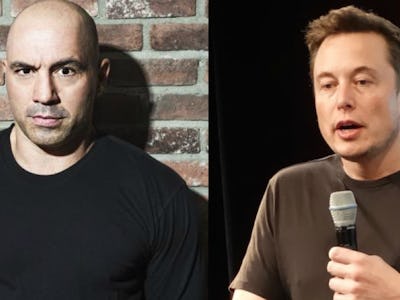 In the world of longform interviews, there are a few giants. Terry Gross, Howard Stern, Marc Maron, Kara Swisher, and in recent years, Joe Rogan.
Update, September 7: Elon Musk appeared on the Joe Rogan Experience podcast last night.
SpaceX and Tesla CEO Elon Musk has done a few live longform interviews in recent years: There was the 2017 chat at the TED conference and his 2018 trip to South by Southwest, but those felt like loosely rehearsed affairs. (The exception might be this 2016 appearance at the Code conference.)
So while Musk has occasionally submitted to requests for a live interview, the next may occur once he hits a major Tesla goal, he said on Sunday.
A Twitter user suggested Musk go on Joe Rogan's podcast and he responded this way:
A lot of people whose judgment I respect have suggested this. Sounds like a good idea. Will do so after Model 3 production reaches 5k/week steady.
Rogan officially extended the invitation on Sunday night this way: "Elon, anytime you're ready you've got an open invitation," to which Musk replied, "Thanks! Have heard universally great things about your podcasts."
Fans of both were happy about the development as these reactions from Sunday and Monday show:
"Elon Musk and Joe Rogan are going to do a podcast episode together. This is the greatest timeline, ever," commented one Twitter user. "Elon Musk wants to be on the Joe Rogan podcast?! Two of my idols, this is gonna inspire the fuck out of me," enthused another fan. "Elon Musk is going on the Joe Rogan Experience. Best thing I've heard all summer," writes a Twitter user with the user name "#ElonMusk2020."
That 5k/week goal for the Tesla Model 3 was famously supposed to be achieved by the end of December 2017, but various delays at the Gigafactory battery plant pushed it to what's now projected to be the end of this month.
Rogan saw early fame as an actor and some infamy as a comedian, but is now best known for his eponymous podcast, The Joe Rogan Experience. The podcast seems to see Rogan finding the sweet spot of a varied career that's also included MMA broadcasting. He's a naturally curious interviewer who we can expect to ask Musk softer open-ended questions, as well as touching on more controversial areas of the tech CEO's professional life and personal opinions.