Elon Musk Hitting the Blunt Is Photoshopped Into Oblivion on Reddit
"How much for the original file so I can frame it?"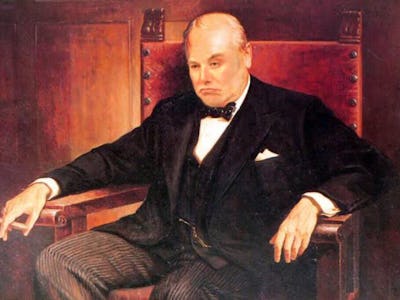 Elon Musk's appearance on the Joe Rogan Experience podcast Thursday night came only after Musk achieved an ambitious Tesla goal. So when he finally met up with Rogan, he let loose with whiskey and weed.
Musk has endorsed whiskey before, but the video of him hitting a blunt mixed with marijuana and tobacco proved too much for Photoshop enthusiasts to resist. The mega-popular Reddit community r/photoshopbattles quickly became the home to 'shopped versions of this screen grab:
Here were the most popular — that is to say, the submissions with the most upvotes — interpretations. Beneath one that mashed up Musk's expression with a portrait of the former British Prime Minister Winston Churchill, a user offered this praise: "How much for the original file so I can frame it?"
Musk at first appeared skeptical of smoking pot with Rogan, and then rebutted suggestions from the host that stockholders would disapprove, stating about pot, "it's legal." Musk subsequently accepted a glass of whiskey by saying that "alcohol's a drug, it's been grandfathered in."
Around eight minutes later, Musk checked his phone to look at what he stated were text messages from friends asking "what the hell are you doing smoking weed?"
He later explained that "I'm not a regular smoker of weed," adding that he smokes "almost never…I don't actually notice any effect…I know a lot of people like weed, and it's fine, but I don't find it very good for productivity…it's like a cup of coffee in reverse.
"I like to get things done, I like to be useful, that is one of the hardest things."
So why did Musk appear on the show? Back in June, he posted this on Twitter: "A lot of people whose judgment I respect have suggested this. Sounds like a good idea. Will do so after Model 3 production reaches 5k/week steady."
Rogan saw early fame as an actor and some infamy as a comedian, but is now best known for his eponymous podcast, The Joe Rogan Experience. The podcast seems to see Rogan finding the sweet spot of a varied career that's also included MMA broadcasting. He's a naturally curious interviewer with a real talent for getting his subjects to open up, alcohol/pot aside.
Now read this: Tesla CEO Elon Musk Details Idea for Electric Plane on Joe Rogan Podcast