'Captain Marvel' Could Pave the Way for These 6 Female-Led Marvel Movies
The future is female for Marvel. Here's our best guess at what that could mean.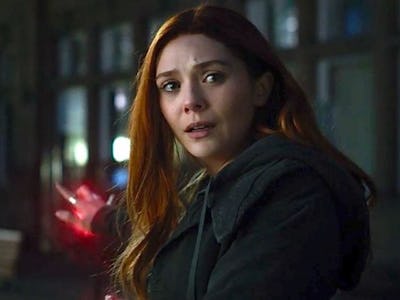 Marvel Studios
To say the future is female for the Marvel Cinematic Universe might seem like a trite assessment, but according to Marvel Studios president Kevin Feige, it's an accurate one. Because after Captian Marvel and that solo Black Widow movie, there are plans for enough female-led movies that it'll become the "norm."
As part of Entertainment Weekly's cover story focusing on Captain Marvel, Feige spoke about the future of the MCU focusing more on female heroes. "With [Ant-Man and The Wasp] and now with Captain Marvel and many movies to be announced in the near future, I'm anxious for the time where it's not a novelty that there is a female-led superhero movie, but it is a norm," Feige said.
In a July interview, Ant-Man and the Wasp director Peyton Reed told Inverse, "Marvel is setting the stage for not only more female heroes but they're casting a wider net to the world around them in terms of who these heroes are."
Feige and the rest of Marvel have been very tight-lipped about almost every movie after Avengers 4, even though there are nine or more Marvel films already on the calendar for future years. But the future, it would seem, is definitely female.
What could these female-led MCU movies be? Here's some calculated speculation:
Black Widow
This one's 100 percent happening, and it will almost definitely be the first solo female movie to come after Captain Marvel.
Screenwriter Jac Schaeffer has reportedly been working on the script and Cate Shortland signed on as the director as of July 2018. There's no release date in sight, but it could be one of the nine dates that Marvel Studios already has penciled in for 2020 or later.
The Wasp
Ant-Man and the Wasp might've proven that Evangeline Lily's Hope Van Dyne can more than hold her own as the totally badass Wasp, but this one probably won't happen.
Currently, her character is totally ashed by Thanos at the end of Avengers: Infinity War. (We didn't see this until the Ant-Man and the Wasp post-credits scene.) But Avengers 4 will totally undo all that anyway, right?
However, Evangeline Lilly did comment on the prospect at the Fan Expo Boston in August 2018, saying, "I actually don't like the idea of a Wasp standalone film, because Ant-Man and Wasp, since the very beginning in the comic books, were always a team." If the star isn't game, then it probably won't happen, right?
Lady Liberators
The title is still totally up in the air, but there's been a lot of chatter in recent years about an all-female MCU team-up movie. Tessa Thompson, who thrived as Valkyrie in Thor: Ragnarok reportedly led the charge in October 2017, and Kevin Feige supposedly said, "Yes."
Since then, we've seen more badass women emerge through Ant-Man and the Wasp with Janet and Hope Van Dyne, but also before that with Okoye and Shuri in Black Panther. Even if a huge, epic team-up featuring all of the female MCU heroes doesn't happen, something on a smaller scale might.
The Dora Milaje
In a post-Black Panther world, Marvel Studios realized that everyone loves Wakanda — and that this corner of the MCU can make a boatload of money.
In a February interview, Feige said, "You watch Danai spinning around in that casino, taking out dozens of people, and you go, 'Of course you can make a whole movie about that!'" So maybe Marvel will make a whole movie out of that? Not only did Danai Gurira's Okoye survive the events of Avengers: Infinity War, but she's become a total fan favorite.
Here's my pitch: an Okoye solo film set in the months following Infinity War where she has to help her devastated nation recover from the death of their king — and half the universe's population.
The Scarlet Witch
Wanda and Vision's romance became the emotional core of Avengers: Infinity War, and they got more screentime than most other Avengers. They both died at the end of Infinity War, but their romantic getaway and team-up against Thanos' henchmen was a pretty exciting thing to witness earlier in the film.
Assuming they don't stay dead, a story that further explored the true nature of Wanda's powers might be interesting — especially if down the road Disney does integrate the X-Men mutant universe into the fold. It'd be virtually impossible to exclude Vision from this movie, but Ant-Man and the Wasp focused way more on Hope. So maybe give us that perspective in this movie as well.
Gamora and Nebula
Some of the best plotlines from the Guardians of the Galaxy movies involve the rivalry and bitter personal history between two of Thanos' adopted daughters.
With Guardians of the Galaxy vol. 3 permanently put on hold after the firing of writer-director James Gunn, it actually offers the perfect opportunity to create a different story that focuses on these two sisters. It'd probably have to take place at some point in the past, while they were still rivals. But that might just make it more fun.
Captain Marvel, Marvel's first female-led movie, hits theaters on March 8, 2019.