Chris Evans Drops a Sneaky 'Black Widow' Movie Confirmation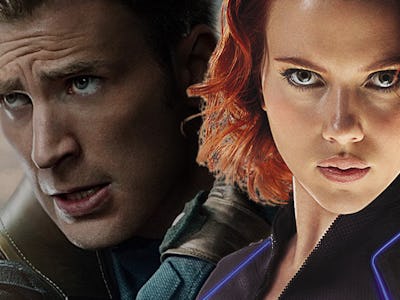 Marvel Entertainment
Captain America fights on behalf of America's interests, but he may not know how to keep top secrets. During a press tour for his latest movie, actor Chris Evans let slip that a solo movie starring Black Widow, presumably with actress Scarlett Johansson, is coming soon.
On Saturday, Chris Evans spoke with ET Canada in a video interview about the success of Black Panther, which debuted to a mighty box office weekend of $235 million. On Marvel's success, Evans said: "There's nothing Marvel can't do, and I'm sure it's gonna have the exact same effect when Captain Marvel comes out, and then the Black Widow movie comes out. Marvel just has the winning recipe and they're kind of one step ahead of everybody else."
Let's back up: Captain America just said a Black Widow movie is coming. This is the first bit of official confirmation following a long, long, long few years of fans and Marvel stars alike publicly discussing a Black Widow solo movie in theory. Now all of a sudden, it's become a matter of when, not if.
Back in January, Variety reported that work on a Black Widow movie was suddenly moving forward with screenwriter Jac Schaeffer. Schaeffer's best-known work is her spec The Shower, a Black List screenplay about a baby shower disrupted by an alien invasion.
Since 2010's Iron Man 2, Johansson has played Natasha Romanov, a.k.a. Black Widow, in the popular Marvel film franchise. Despite her popularity, Johansson has only appeared in ensemble pictures, or as co-lead with male stars. As the only female Avenger (until 2015's Avengers: Age of Ultron), fans have tirelessly petitioned for a Black Widow movie.
In an April 2017 interview, Evans previously hyped the box office potential of a Black Widow film. "It would really just clean up, wouldn't it?" Evans told Elle. "Scarlett is so good at everything she does. She's played such a crucial part in the other films. She always makes her presence so felt — even when there are 50 different superheroes running around onscreen. I wouldn't be surprised if that happens at some point in the future. I'm sure Scarlett would be open to it."
Separately, 20th Century Fox's upcoming movie Red Sparrow, starring Jennifer Lawrence and based on the 2013 spy novel by Jason Matthews, has inspired comparisons to the female Avenger. Like Black Widow, Red Sparrow is about a beautiful, highly-trained female Russian agent who underwent hell to become a superhuman killer. But unlike Black Widow, J-Law's character falls in love with an American spy, and not a meek scientist exposed to gamma radiation.
There is no release date or confirmation of a Black Widow movie, yet. But you can see Natasha kick alien butt again in Avengers: Infinity War on May 4.