'Black Widow' Release Date Draws Closer as the Search for Director Narrows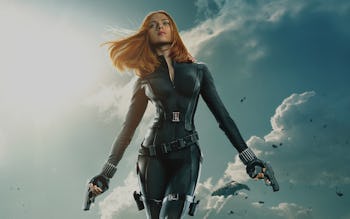 Marvel Entertainment, Blastr
Of all the Avengers, there's one team member who has been part of the MCU since 2010 but has yet to get their own film: Black Widow. Although it hasn't been officially announced, the rumors are not only is a movie in the works but there are a few contenders in the running for directing the film.
According to Deadline, there are three female directors up for the job of taking the helm of the standalone movie starring everyone's favorite red-headed Russian operative. They are Cate Shoreland (Lore, Berlin Syndrome), Amma Asante (A Way of Life, Belle), and Maggie Betts (The Carrier, Novitiate). The three directors recently met with the star of the movie Scarlett Johansson and Marvel Studios president Kevin Feige.
Marvel has yet to announce any news about a Black Widow movie or confirmed any of the rumors circulating around it. It was back in January when the first mention of the film made the rounds with the news that Jac Shaeffer (TiMER) was attached to write the film.
While it's not anywhere near an official confirmation, Captain America himself, Chris Evans, let it slip that a Black Widow movie would be coming out. Evans could have been caught up in the moment naming characters with movies and threw in Black Widow, but who knows.
What is clear is that Marvel is coming to the end of its Phase Three and the beginning of Phase Four. It only has Ant-Man and the Wasp out in July then Captain Marvel and Avengers 4 coming in 2019. Then there are nine more movies in the works, which means a lot more Marvel characters to bring into the MCU.
Avengers 4 is the key point to Marvel's plans for future films, and people are still coming up with theories to figure out what's going to happen when it comes out next year.