'Thor: Ragnarok' Star Wants All-Female Marvel Film, Cites Lady Liberators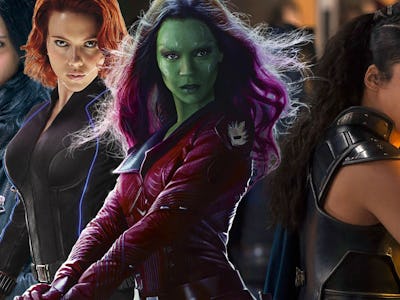 Marvel Entertainment
Imagine a Marvel movie starring exclusively female heroines. Cool, right? That's what a Thor: Ragnarok star recently pitched to Marvel, and while it's not any way officially happening, Marvel head Kevin Feige seems interested.
During a press event for Thor: Ragnarok on Wednesday, actress Tessa Thompson ("Valkyrie") and Marvel Studios head Kevin Feige revealed that Thompson had seriously approached Feige with the idea. "Recently I marched up with a couple of other women who work in Marvel and [asked Kevin Feige] 'How about a movie with some female superheroes? Like all of them,'" said Thompson.
Joked Feige: "It was a pretty amazing moment to be somewhere and have your shoulder be tapped and turn around find every female hero we have is standing there going, 'How about it?' And I said 'yes.'"
Thompson brought up an obscure Marvel reference to make her point. "There's a precedent for it in the comics with the Lady Liberators," she told the press, which impressed Feige. "Deep cut! Lady Liberators!"
The Lady Liberators are an all-female superhero team in Marvel, who first appeared in The Avengers #80 in 1970 by Roy Thomas. Several major MCU heroines have claimed membership to the Liberators, including Black Widow, Scarlet Witch, the Wasp, and Valkyrie. (And Hellcat as well, but Patsy Walker has yet to adopt her hero identity in Jessica Jones.)
Given the overwhelmingly male presence in the MCU, a movie that celebrates all the female characters would certainly be welcome by Marvel fans. Black Widow has been an extremely popular character, especially among girls, but Marvel remains hesitant to greenlight a solo film with Scarlett Johansson.
Thor: Ragnarok will hit theaters on November 4.