Two Years After SpaceX "Anomaly," Elon Musk's Rocket Firm Has Bounced Back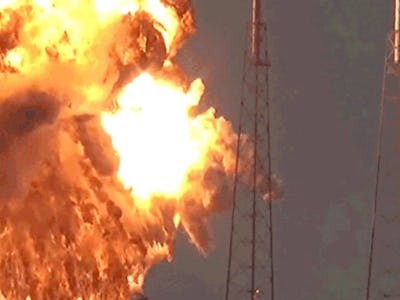 SpaceX
It was a Thursday afternoon two years ago today when a SpaceX Falcon 9 rocket exploded into a giant orange fireball on the launchpad in Cape Canaveral, Florida. The rocket was intended to launch a few days later, carrying among other payload items, a plan to get Facebook's internet into orbit.
There were conspiracy theories about sabotage in the weeks after the explosion, as SpaceX looked for leads. There was a "deeply disappointed" Mark Zuckerberg, the loss of a satellite and rocket worth hundreds of of millions of dollars, and renewed doubt over the company's reliability.
SpaceX CEO Elon Musk described it as "the most difficult and complex failure we have ever had in 14 years." Four months later, on January 2, 2017, SpaceX explained the cause of the Falcon 9 fireball: It occurred after "one of the three composite overwrapped pressure vessels (COPVs) inside the second stage liquid oxygen (LOX) tank failed."
As a result, oxygen built up and ignited as this seen below: 
The explosion also set back SpaceX's launch schedule for the rest of the year. That was four months worth of launches which, for a a while, had no defined rescheduled date. SpaceX began losing customers, even after it was able to announce a January target for return to flight.
Despite the massive set-back, SpaceX had a record year in 2017, launching 18 successful missions in a row between January 14 and December 22. SpaceX followed up that perfect year by making history in February 2018 with the largely successful demonstration flight of the Falcon Heavy rocket. The event also saw SpaceX pull off maybe the most memorable bit of marketing in aerospace history: The launch of Starman in a Tesla Roadster, complete with David Bowie's "Life on Mars" as the soundtrack.
In the two years since that explosion, SpaceX has pulled off 33 successful launches in a row, most recently with the August 7 mission that put an Indonesian telecommunications satellite into orbit and saw the first stage of a Falcon 9 land on the Atlantic Ocean drone ship, Of Course I Still Love You:
An unofficial schedule of launches assembled by the SpaceX enthusiasts on reddit.com/r/spacex has 10 SpaceX launches scheduled for the final three months of this year. That's a cadence of a launch every 11 days or so (assuming there are no delays, and there are always delays) on average. It indeed looks as if SpaceX will have a "lopsided" 2018, in the words of SpaceX journalist Eric Ralph.
SpaceX didn't respond to questions from Inverse on how it looks back on the "Falcon fireball" two years on from the event, or how it plans to tackle the the ambitious launch schedule it appears to be staring down for the fourth quarter of 2018.
While SpaceX is innovating — there's the development of the Crew Dragon capsule and the BFR to name two headline-grabbing projects — the rapid reusability of its rockets has maybe been overshadowed, but it shouldn't be.
Since the Falcon Fireball Incident of 2016, the SpaceX has evolved to become what was in serious doubt two years ago today: a reliable rocket company.
Related video: "SpaceX's Gwynne Shotwell Claims Rockets Will Replace Planes on Earth"