SpaceX Just Reused a Falcon 9 Block 5 in Major Step for Super-Fast Launches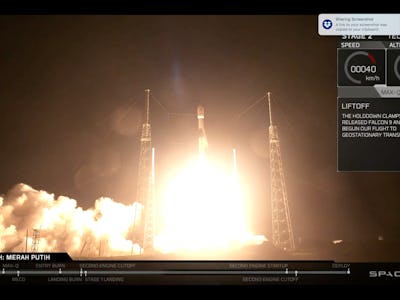 SpaceX
SpaceX took a big step toward its goal to reuse rockets in record time, after it successfully launched a Falcon 9 Block 5 rocket with a Merah Putih satellite on Tuesday. The first stage rocket was first used in May, and it marks the first time that the more reusable "Block 5" design has reflown after a previous mission. It's a key step toward CEO Elon Musk's ultimate goal to refly rockets in just 24 hours.
The mission launched from the Cape Canaveral Air Force Station in Florida at 1:18 a.m. Eastern time from Space Launch Complex 40. The mission deployed the Merah Putih geostationary commercial communications satellite for PT Telekom Indonesia to provide service to the country and other areas for 15 or more years, the name in Indoenesian meaning "red and white" to symbolize the colors of the national flag. The satellite deployed 32 minutes after liftoff, as the first stage rocket landed on the Of Course I Still Love You droneship in the Atlantic Ocean.
See more: Watch SpaceX Successfully Launch Falcon 9 Block 5 and the Bangabandhu Satellite-1
The first stage was previously used for the Bangabandhu Satellite-1 mission on May 11, sending Bangladesh's first geostationary communications satellite into orbit to provide at least 15 years of broadband internet connectivity to rural areas. SpaceX has flown two more "Block 5" cores since the first mission, but Tuesday marks the first time that the same core was used again.
The company has big plans to use the Block 5 to enable more ambitious turnaround times. Musk told reporters at a pre-launch conference prior to the Bangabandhu mission that "our goal, just to give you a sense of how reusable we think the design can be — we intend to demonstrate two orbital launches of the same Block 5 vehicle within 24 hours, no later than next year."
However, Musk admitted that this is likely to be a major challenge, noting that "there's only so much work you could even do in one day, and a bunch of it consists of transporting the rocket from its landing site back to the launch site, mounting a new satellite on the rocket and loading propellant."
With three months between the Bangabandhu and Merah Putih missions, and a record turnaround time of two months, SpaceX has its work cut out.