AG Sessions Blames Worsening Opioid Crisis on Chinese Fentanyl and Dark Web
"We will put you in jail. We will make you pay."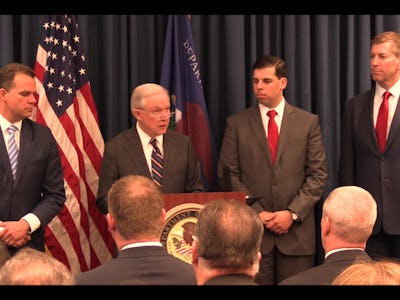 YouTube/ cleveland.com
On Wednesday, United States Attorney General Jeff Sessions held a press conference in Ohio to commend the ways the Attorney General's office in Cleveland has helped fight America's opioid crisis. In his version of a "dope on the table" speech, he lauded federal authorities for their role in arresting overprescribing doctors, thwarting China's illicit fentanyl trafficking, and preventing drug sales on the dark web.
"The purity, the danger of these drugs is unprecedented," said Sessions, referring to illicit fentanyl and fentanyl analogues.
The talk suggested that Sessions' stance on combatting the opioid crisis is still heavily reliant on law enforcement, despite critics of his strategy arguing that a public health approach is far more humane and effective.
Over-Prescribing Doctors
In his address, Sessions stated the Department of Justice would begin pursuing civil action against doctors who have been found to be illegally over-prescribing opioids.
"I'm announcing the first ever civil injunctions under the Controlled Substances Act against doctors who the evidence indicates prescribe opioids illegally," he said. These temporary restraining orders immediately stop doctors from prescribing drugs, rather than requiring due process with a criminal investigation. Sessions then announced the DOJ's ongoing cases against two Ohio doctors who had been allegedly caught prescribing opioids without a legitimate purpose to undercover agents.
Illicit Chinese Fentanyl
Sessions also announced a 43-count indictment against two Chinese men accused of manufacturing and trafficking fentanyl, other synthetic opioids, and counterfeit prescription drugs to 35 US states. The investigation stemmed from the deaths of two Americans from fentanyl drugs, which eventually led federal agents to the Chinese trafficking organization run by the two men in question.
Opioids on the Dark Web
Sessions also announced some preliminary arrests from Operation Darkness Falls, an operation against dark web drug dealers. So far, this operation has yielded the seizure of the dark web marketplace AlphaBay as well as the arrest of a San Antonio couple who went by MH4Life.
"MH4Life had the highest number of verified transactions worldwide of any fentanyl vendor based upon a review of Dream Market," wrote the DOJ in a press release. Sessions also announced several other, smaller arrests and convictions of dark web dealers.
War on Drugs vs. Public Health
At times, Sessions let down the law and order approach and struck a more public health-oriented tone, saying that he cares more about bringing down the number of overdose deaths than about getting convictions. The press conference's focus on bigger players in the drug supply chain supports this point, though Sessions' focus on doctors comes with its own serious issues.
As critics of this general strategy have pointed out, focusing on legal prescriptions does more to harm chronic pain patients than it does to help stem the tide of drug abuse. Anecdotal reports show that doctors' cautious attitudes in the face of such ideas can sacrifice patients' quality of life. One patient, Tom Dri, tells Inverse that the oxycodone dosage he had maintained for ten years to deal with chronic peripheral neuropathy pain was recently decreased by a new, opioid-conservative doctor, and the consequences have been grave. "I'm in bed 24/7 and feel like I'm in hospice," says Dri.
The National Institutes of Health estimates that about one in four Americans has lived with chronic pain, so stemming the flow of opioid drugs to people who legitimately need them does not seem like a sustainable solution, especially when it's well-documented that some pain patients turn to illicit drugs when they can't get relief from their doctors. In July, US Drug Enforcement Administration spokesperson Rusty Payne told Inverse that stemming the US demand for drugs is of the utmost importance when it comes to decreasing overdose deaths.
Sessions did not mention any strategies to combat American demand for drugs or harm reduction strategies, like expanding access to treatment or the overdose-reversal drug naloxone. He ended the press conference with a stern warning to doctors, drug dealers, pharmacists, and anyone else who may play any sort of role in the opioid crisis:
"We will put you in jail. We will make you pay."