AirPower Clone Hits the Market for a Fraction of Apple's Reported Cost
Absolutely savage marketing.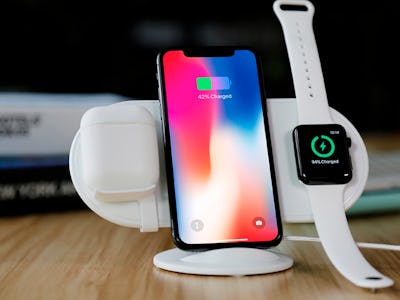 Vinpok
Rumors have it that Apple's promised Airpower wireless charging pad will arrive in less than a month. But while the Cupertino-based tech company has been reportedly refining the technicalities as it readies its first wireless charger for the market, online retailer Vinpok has taken it upon itself to replicate the AirPower at a fraction of the price Apple is expected to charge.
Indeed, the Plux Wireless Charging Stand is said to have the ability to simultaneously charge an iPhone, Apple Watch, and a pair of AirPods. That's identical to the AirPower's marquee feature, that Apple paraded on stage during its 2017 iPhone keynote. The only difference is that Vinpok's charger retails at $79, roughly half of the $150 price tag that reports suggest the AirPower will go for.
This is by no means the first company that has shown signs of trying to take advantage of the AirPower's delays. Samsung and Logitech have both recently dropped wireless chargers ahead of the anticipated iPhone keynote. But the rollout of these Plux Wireless Charging Stands is probably the most savage of them all.
All major smartphone brands make use of the Qi Standard of inductive charging, making them compatible with any charger that uses the same technology. But instead of marketing their charger towards any Qi-compatible device, Vinpok is pretty transparently targeting Apple users with its visuals and its marketing.
It's important to note that Apple has patented a large portion of its wireless charging technology, so while the Plux might look extremely similar to the long-awaited AirPower, it likely isn't the same on the inside.
Rumors have alluded to the possibility that Apple's charging pad will contain 22 individual coils, which should not only allow it to charge a lot of devices at once but ensure that they reliably charge overnight.
But while iPhone users are still sitting around waiting for their heralded wireless charger, Vinpok is pretty much supplying what they've been craving.